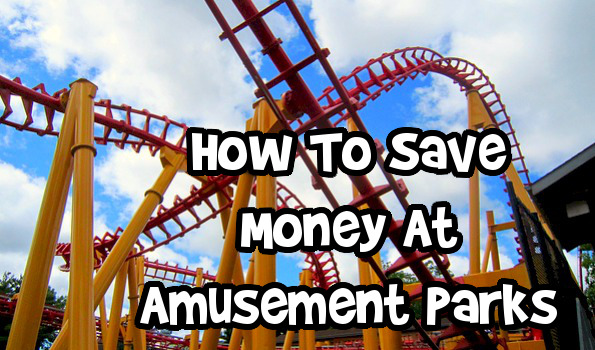 Amusement parks pack lots of fun into one day and are a popular destination in the summertime. Like many Canadians, I am planning to head to at least one amusement style park this summer with my family to make some memories. The problem is I have trouble enjoying my trip when I leave broke, and that is exactly what happens when I do not plan. According toStatistics Canada, amusement parks made $472.9 million dollars in 2012, and the trends for revenue are moving upwards. Avoid being a statistic and save big bucks by using my tips below.
Pack Your Lunch
I think most people are aware that the cost of food is high, as we are all a captive audience once inside the doors. For more insight into how theme parks get away with inflated food prices, check out this post on Money Manifesto. A well-packed cooler can go a long way towards saving you money at your destination this summer. Make sure you check out the rules for the park you are visiting online. Many do not allow coolers inside the park but have designated picnic areas. If there is no picnic area, you also have the option of tailgating from your car.
Bring bottles of water to help keep you hydrated throughout the day. Most parks will allow water inside, and it saves you from buying multiple pricey drinks. I suggest filling bottles hallway full of water and freezing them, then topping them off with water before adding them to your cooler. You can then use these extra bottles as ice packs in your cooler and will have a cold bottle to swap with after lunch. Throwing a few snacks in your bag can also help avoid buying overpriced treats on a whim. I generally budget for one family food treat during the day. We usually plan for that mid-afternoon when we are more tired and more likely to splurge.
Plan For The Free Activities
One of the first things I do the first time we check out a park is to check out the show schedule. So many of the parks have fun and entertaining song, dance, comedy and animal shows. Attending most of these shows are included with admission tickets, and most are enjoyable. I find it helps to break up the day from standing in long ride lines. Check out the schedule from the beginning to make sure you do not miss the best shows.
Skip The Midway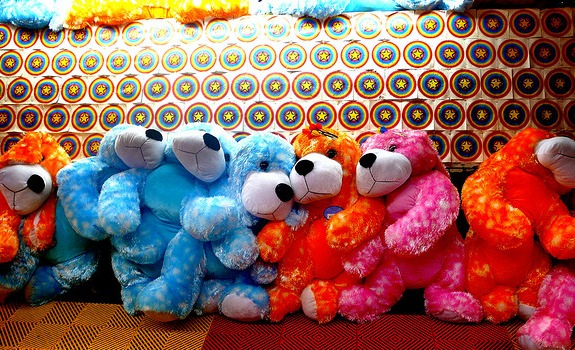 The midway, the arcade, or any area that has games to play where you pay by the game is a sinkhole for your cash. It can be hard to resist when your child is eyeing the oversized blue tiger or the attendant is ruffling your feathers to play. The reality is once you start sinking your money into these games, it can be hard to give up and walk away without the prize. These games provide only a few minutes of fun that could be spent enjoying one of the many activities in the park that is included with your admission price.
If you cannot resist these games, set yourself a limit before you plunk down bill after bill. Over at The Art Of Manliness, they have a great article that can teach you how to increase your odds of winning many classic midway games. Blifaloohas another great article with some tips on when to play and how to win at a variety of midway games.
Buy Tickets Online
If you are planning on heading to a particular theme park, check on the website. Many of the larger parks will give you a discount for purchasing tickets online, especially if you purchase them several days ahead of time. For example, currently on Calaway Park's website they have an online deal that can save you cash on your ticket price, plus an additional deal to pre-purchase pizza for four people.
Group buying sites such as Wagjag also periodically offer deals for some of the bigger attractions. If you are a member of CAA, do not forget to check with them for any discounts you may be eligible for with ticket purchases.
Consider A Season Pass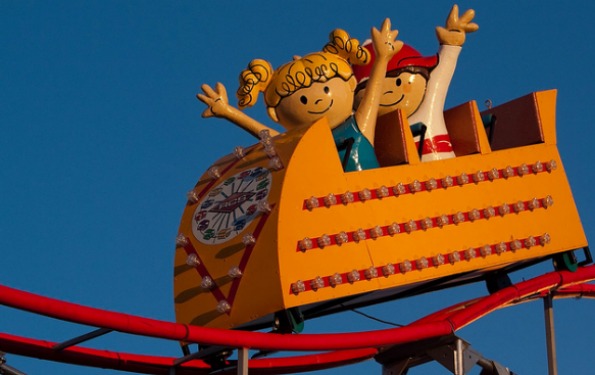 Last year we bought a season pass to a local park here in Montreal as we were leaving for the day. I calculated the costs and if we visited three times, we were ahead if we upgraded our ticket to a membership. It was still early in the summer, so we grabbed the deal. According to the Globe and Mail, the trend right now for large theme parks is to shift away from one-time visits and to focus more on making season passes more enticing. That means more benefits are popping up every year for pass holders. Some of the bigger parks such as Canada's Wonderland have started allowing members to purchase the pass in payments to ease the overall cost. If you purchase a pass during the month of June, La Ronde includes coupons with three free admission coupons for friends to join plus other food discounts. The trick to these passes is to make sure you schedule a few return visits into your calendar before the summer slips away.
To plan your next great amusement park trip, you may want to check out this list of Canada's Top 10 Amusement Parks. I tend to stick to the parks closer to my own home, but sometimes I need to mix it up with a new adventure. This list is a great place to start!
Bargainmoosers, what trick do you use to save money at amusement parks?
(Image Credit: Charles Lemieux, chotda, Julie Green)