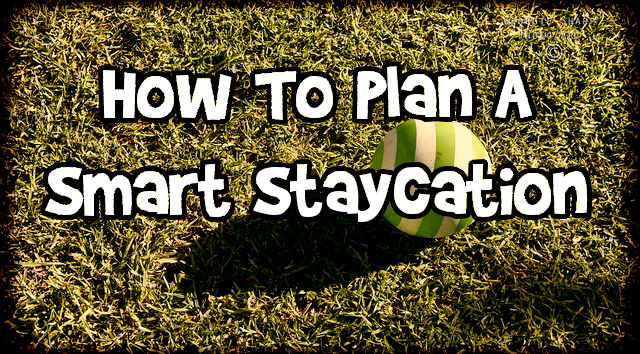 With summer rolling around soon (feels like it is already here!), you might be planning a fun staycation. You don't need to go away to a cottage or to a foreign country to have a fun summer, and you don't need to spend a lot of money. Here are some ways you can plan a fun but frugal staycation at home.
Plan Ahead
The first start to a smart vacation is to plan. Flying by the seat of your pants might be thrilling, but not when you end up spending the summer doing nothing or spending over your budget because of lack of planning. I love to go on Pinterest and create a summer to-do board. I will then write it on the calendar that this is what we'll be doing this day. It could be something simple like a walk in the woods, or something elaborate like going to an amusement park. But, I know that if I've written it down, I won't be scrambling to find something to do and spend the whole day trying to figure it out.
As for your budget, this should be planned in advance too so you don't get to August and have no money left for what you've planned. Last week I blogged how to plan a successful vacation and gave tips on creating and maintaining a vacation budget.
Take a Real Vacation
Staying home might be on your calendar, but make it a real vacation. Completely unplug from any electronics, work commitments, housework and anything that keeps you from relaxing and enjoying yourself. Stay outside all day and turn off the telephone so you won't be interrupted. Do all your laundry beforehand, eat on *gasp* paper plates or order out. Even pay a housecleaner for a week so you don't have extra to do once you are done your staycation.
Find Fun & Cheap Activities Around Home
Most cities and towns have festivals, which are usually free to go to, just don't get caught up in spending all your money on rides and food (unless you've budgeted for that). Also, my kids love going to farms around our city, which usually have a very small admission fee and lots of fun to be had, as well as learning opportunities. Look for free swim days at your local pool or just hit the park/splashpad or local wading pool. Don't underestimate the pleasure your kids get from going to the park and you get from sitting on a bench with a book. This was one of my favourite things to do last year! I really like this list from Digital Reflections on 100 free things to do with your kids this summer.
Discover Nature
In my city there are a few conservation areas for both a fee and free. I know my kids and I could spend an entire day there discovering. Kids can get a free fishing licence in Ontario, so a cheap rod would be an excellent investment and a day well spent. Greenhouses and gardens are also great learning opportunities and can be fun for kids and adults. Inner Child Fun has some great ways to explore with nature including recording your observations.
Get Active
Sports are a great way to spend a day, and they don't have to be organized. Grab a bat and a ball and head to the baseball diamond. Get your putter and do a round of mini golf or hit the driving range. Some golf courses have a kids golf free day or week, so research this and take your kids along with you. Get on your bikes and just ride. All of these activities don't need to cost much and you can buy all of your equipment off kijiji or from a used goods sporting store.
Backyard Fun
There are so many fun things you can do in your own backyard. Set up a tent and camp out. Have a water fun day with water balloons, the sprinkler and a kiddie pool. Check out these cool ideas for a water olympics. I love the ideas on Growing a Jeweled Rose's blog, especially the one about a shower curtain and shaving cream (although I'd use whip cream). Super fun and cheap!
Rainy Day Fun
You'll have to expect a few rainy days this summer, and you are best to prepare for them. Get some board games out and have a full-day board game marathon. Make some crafts or do some science experiments and again, Pinterest is a great place for ideas. This homemade butterfly feeder is an activity that will give everyone something to do/watch all summer.
Invite Over Friends
I love entertaining and having friends over is probably more fun than going somewhere. Whether it is your friends or the kid's friends, company always has a way of making the time go by faster with more fun. Have a potluck and a BYOB party so that you save the costs of hosting. Maybe you'll get an invitation over somewhere else too, and that will give you another fun thing to do on your staycation.
Take Lots of Photos
Just because you are home, doesn't mean you won't want to treasure these memories. Taking photos helps you to realize you don't need to be away to have fun and create memories for your children and yourself. I like to do mini photo shoots through the summer, as the backdrops are usually gorgeous no matter where we are.
Bargainmoosers, do you have any staycation plans? Tell us about them!
(Photo credit: Georgie Sharp)