Years ago, the only way to determine what sort of engagement ring you wanted, was to go into various jewellery stores, see what was available in your size (or have it sized), or see if they could order one in from a pamphlet they kept in the store. Quite often, it was left entirely up to the fiance, but that is not usually the case today.
Nowadays, things are much different. Usually, both the bride and groom will discuss and plan this out together. There are tools shown in this guide that will help you to find your engagement ring and the best wedding band match, too.
Speaking of which, Blue Nile is offering our Bargainmoose readers an exclusive savings offer on wedding rings, which is explained in detail at the end of this guide.
If you are looking for a ring that is pre-set and ready to go, Here is an on-line step by step guide to assist you in finding the absolute perfect wedding ring set. I love the ring-matcher tool, shown in the first picture on the left hand side.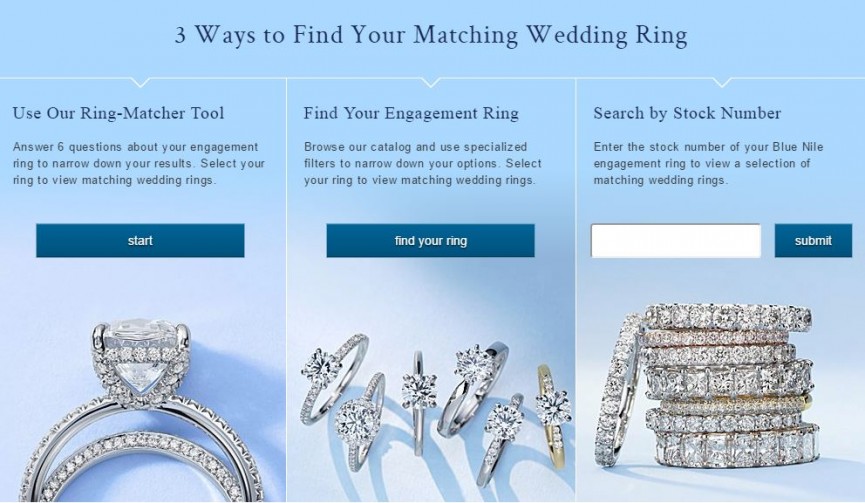 The first step the ring-matcher tool takes you through is going to be choosing a setting style that you like. Immediately, you are shown 6 different pictures of engagement rings with various settings. Petite solitaire, classic halo (which to your fiancé may mean a video game, but don't let that concern you, that's totally normal!), petite pavé, truly zac posen, and a 6 claw low dome, as shown here:

As soon as you click on one of the choices, you can select what type of material you want your ring to be composed with - either 14K white gold, or platinum.
You can see on each picture the difference between the karat sizes and how they really look on the ring.
What if you want to build your own ring? You can do that right here.

There is an incredible tool you can use to refine your search for your diamond, to set the features you want to view. This is what the tool looks like:
You can see from the image above, you can choose from over 122,000 diamonds! You can select the shape, the cut, colour, and clarity. You can also set a price range to search for. The diamonds start from $359 and up. Each diamond shows very specifically about what the cut/colour/clarity mean.
On this one here that I selected, the following information is provided: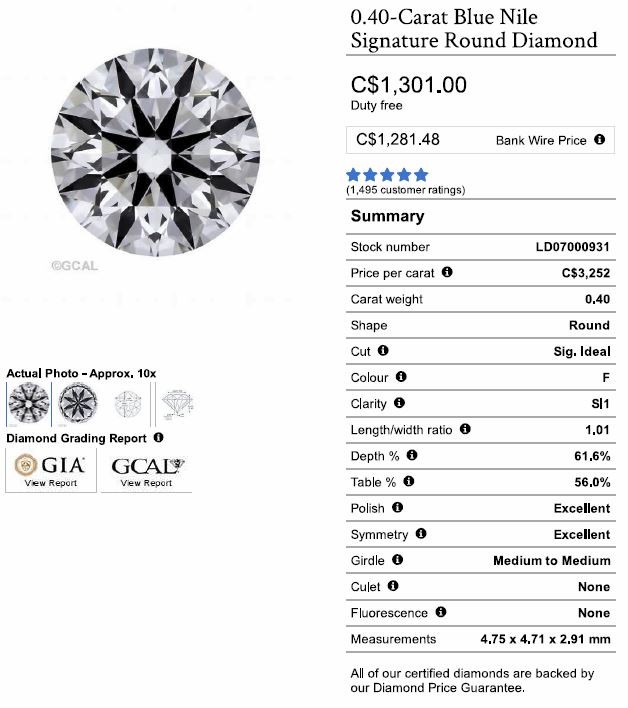 Where each letter 'i' is show after the words, you will find a lot of detail about your specific diamond. For example, looking at the clarity, I am shown this: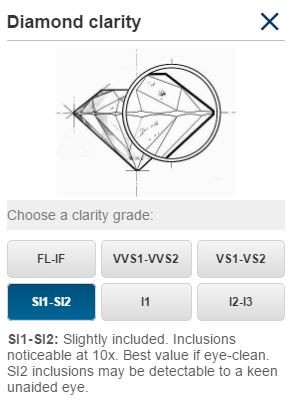 If you click on the other options, it shows you what they mean. For example, clicking on FL-IF will show: " Flawless: No internal or external characteristics. Internally Flawless: May have external blemishes only. Both extremely rare." If you are not happy with the clarity grade, you can go back and select a different diamond.
This online tool is extremely useful in learning more about selecting the best diamond for you. You can compare several diamonds by clicking the compare checkbox on the left hand side, or, you can add the diamond to your ring by clicking directly on the diamond and selecting, 'add to your ring.'
Once you have added your diamond to your ring, you will be presented with the most amazing selection of engagement rings. You will see bands that have diamonds inset around, etc. In my case, I was provided with 237 different rings!
Here as a small sample, are some rings that I was shown. Keep in mind the pricing is in addition to the original diamond price.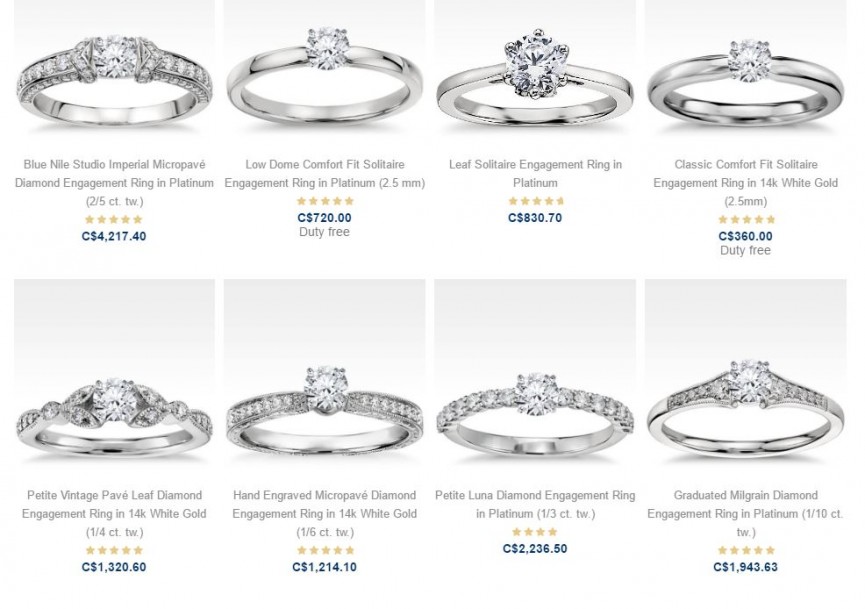 In my case, the ring I selected was the leaf solitaire for $830.70. Shipping via FedEx overnight is free, duty was around $50, seems reasonable to me. The price is in CAD funds.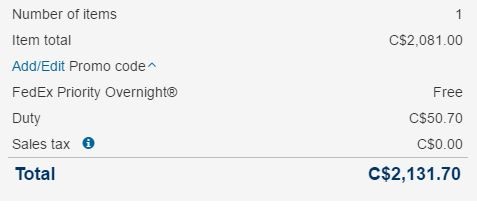 Now you are going to need a wedding ring to match that! You can refer back to the tool at the very top of this post, to find the right match for your ring, then find a similar model in the link below of rings that qualify for the discount.
Right now, Blue Nile is offering our Bargainmoose readers an exclusive discount of 10% off Wedding Bands up to $999, 15% off Wedding Bands $1K+ on wedding bands here. You MUST use code MOOSERINGS upon checkout, or mention it over the phone if ordering by phone at the time of purchase.
Here are the terms and conditions of the exclusive offer:
10% off wedding rings up to $999, 15% off wedding rings $1000 or more. Valid while supplies last on wedding rings found here: http://www.bluenile.com/ca/wedding-rings/all-wedding-ringsOffer not valid on sale merchandise, loose diamonds, settings, Build Your Own Diamond Jewelry™, gift certificates, Designer Collective, Zac Posen jewelry, Monique Lhuillier jewelry, back-ordered items, polishing cloths or cleaner purchases. Not valid for special orders. Reference code MOOSERINGS must be entered in cart or mentioned over phone at time of purchase. Offer may not be combined with any other offer, cannot be applied retroactively and does not apply towards any duties, taxes or shipping insurance fees. Void where prohibited. Offer expires midnight EST 7/30/2016. The offer terms and conditions are subject to change at any time without prior notice. Other restrictions may apply.
Shipping is free with FedEx shipping if your orders are over $200 at Blue Nile, the source of brilliance!
(Deal expiry; July 30, 2016)