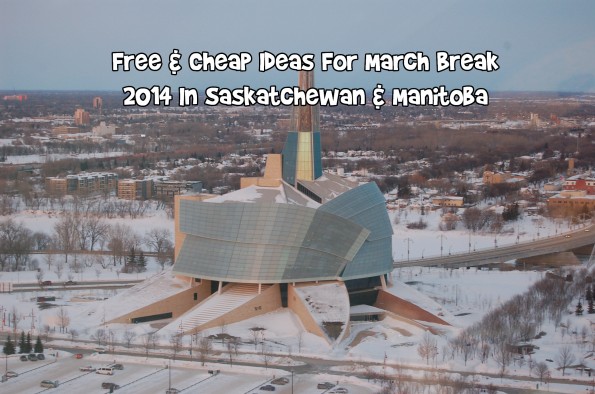 March Break is fast approaching on the prairies, and you are going to need some cheap things to do with the kids for the week. I'm going to provide you with a comprehensive list of fun and exciting ideas for the kids that won't break the bank.
Assiniboine Park looks amazing and is absolutely free to get in. The Conservatory has rotating displays so you feel like it is Spring, even with snow on the ground outside. Located in Winnipeg, they have an all-year nature playground with tobogganing, basket swings and a large open space.
The Winnipeg Police Museum is awesome for your little police officer in training (or criminal in training, take your pick), with some awesome displays and free admission, including a real jail cell.
If you are looking for some hot hotel deals, Travel Manitoba has coupons for a hotel stay, dinner, breakfast and movies all for prices as low as $125! Tourism Winnipeg also has some sweet hotel package deals available.
The Manitoba Children's Museum has a great lineup of events including the junior Junos in collaboration with the Junos! Sounds like so much fun. They also have a Free2Play program where children of limited means can still participate in the fun of events and camps.
Get yourself a copy of the Entertainment book, which we often have coupons for and great deals in our forum, and you'll get a ton of coupons for family fun centres around Manitoba and Saskatchewan. This is perfect for Spring Break.
The Regina Floral Conservatory is a great way to teach your kids about nature and it is free and open every day! Check out the Lil' Gardeners club, running on specific days throughout the Spring.
The University of Saskatchewan has free admission to Saturday night viewings at the Observatory. Use the super-large telescopes to find interesting objects in the sky.
If you want to check out the Saskatoon Zoo, kids six and under are free! A family rate is only $20. The Saskatchewan Forestry Farm Park and Zoo also lets kids five and under in free and parking is only $2.
Don't forget about the Spring Break programs offered at Chapters Indigo in both Manitoba and Saskatchewan this March/April.