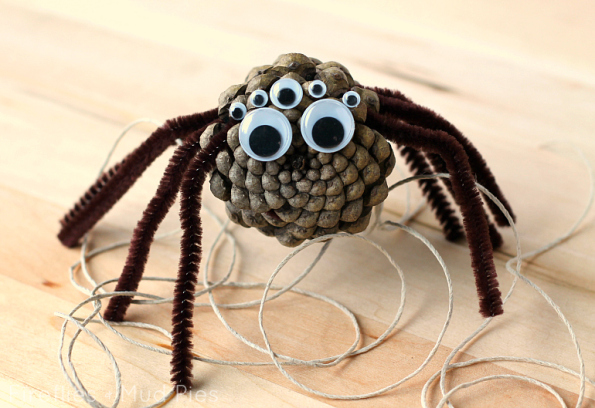 YECH! I despise having spiders in my home, but these ones I can handle. If you love the Adorable Pine Cone Owls I wrote about yesterday, then you're going to love these adorable little creatures. You may even have some handy materials left over to create more creatures if you wish. Just in time for Halloween, round up the kiddos and get making your very own unique four legged freaks. To add an adorable "spook-factor" to your home this Halloween, you can make these adorable pine cone spiders and then place them strategically around your home in nooks and crannies. 
So here's what you're going to need to make your very own creepy crawlies:
pine cones
google eyes
brown (or black) pipe cleaners
scissors
glue gun
twine or string to act as a spider web
Most of these items can be picked up from your local craft store or dollar store, but the pine cones you may need to hunt down on an outdoor adventure. This could be fun with the kids. Just go for a stroll to the park or something and see if you can find any round type pine cones that would make a perfect body of a spider.
Once you are home and have dusted off your pine cones, you can wrap 4 full length pipe cleaners around each pine cone. This will result in a total of 8 creepy legs for your adorable spider. You can shape the pipe cleaners to look like spider legs, and use your scissors to cut them to an even length if necessary.
Then you can use your hot glue gun to glue on as many eyes as you want. They say that spiders have 8 eyes, but you can really get creative with this. Does your spider have only two eyes? Or maybe your spider has two big eyes and six small eyes - who knows!
You can hang your spider with twine or white string to act as a spider web, or build your own spider web for your newly designed creatures. The kids will thoroughly enjoy this project and you will probably keep and use your spiders for years to come. These guys will cost you next to nothing to make, and they are virtually mess free as well. I would just really make sure you clean out each pine cone so no real creepy crawlies are residing in your home as a consequence.
A huge thank you to Fire Flies and Mud Pies for making this tutorial.