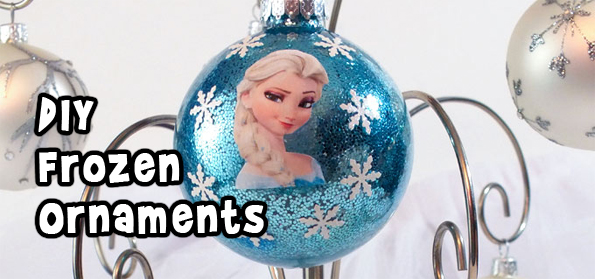 I'm a fan of Pinterest; the site that can make you both horribly excited about crafting and feel horribly inadequate at the same time when your projects FAIL. As I write this blog post, I've got some cakes in the oven in an attempt to make a rainbow cake, which has been splattered all over Pinterest for the last while.
While searching for some Christmas crafts, I spotted these DIY Frozen ornaments made by Nancy over on TwoSistersCrafting. She was on a mission to find some Frozen baubles at the store, but couldn't find any. Nancy made her own from various empty baubles and craft supplies. They look really fabulous, as you can see in the pictures above and below.
Frozen is all the rage at the moment, it's so popular! Just in case you missed it yesterday, I posted about this Disney Frozen MagiClip Flip 'N Switch Castle and Anna Doll for $16 on Amazon.ca. The toy is still available, if you want to wrap it and put it under your Christmas Tree which is decorated in home-made Frozen baubles!