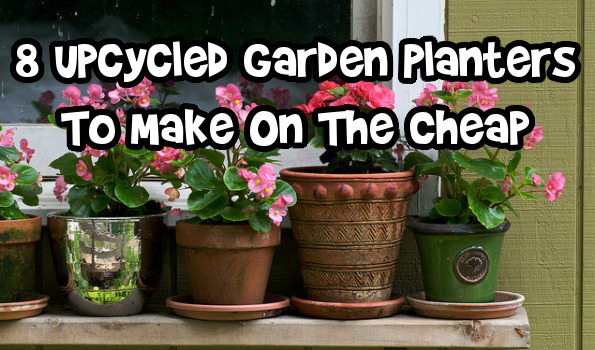 I was talking to Margarita the other day and she was asking me a few gardening questions. One of the things that came up was how much to pay for a planter. She has a cherry tomato plant she needs to re-pot and was expecting to spend about $20 on a planter. While I normally would pick up a few inexpensive planters at the dollar store, those beautiful decorative planters in the hardware and garden shops are quite lovely. The problem is I do not care for the $20 to $50 price tag per planter that often goes along with a decorative or larger planter. Multiply that price for several plants and you can easily spend $60 to $100 and upward for cute plant holders.
Below I rounded up some planters you can make easily on the cheap and will give your garden some personality. Most of these items may already be in your home or in your recycling bin. Thrift stores like Value Villagecan also be a great source of items to upcycle for cheap, and garage sales are another easy place to pick up some of these items on the cheap. Add a little bit of fun to your backyard, patio or balcony for summer.
Cat Plastic Bottle Planters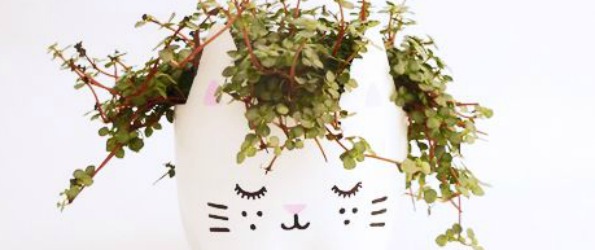 With springtime parties in full swing, you may find you have a few extra plastic bottles around. Why not make these darling cat planters featured over at Brudiy. A little paint and a permanent marker will quickly make as many of these darling planters as your garden or living room can hold. This blog is in both Spanish and English.
Toy Truck Planter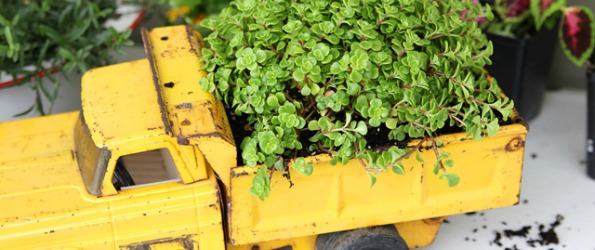 This is the perfect project for a forgotten toy truck. Check out this great tutorial onHouse of Hawthornes. If you do not already have a truck in mind, check garage sales for this type of treasure on the cheap.
Chair Planter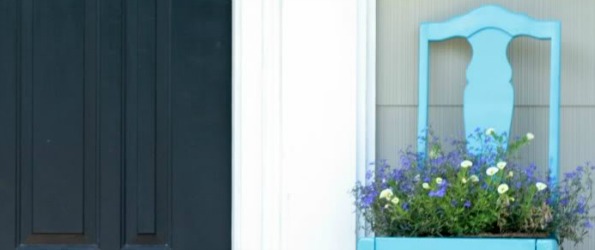 This chair planter makes a great accent to your front door or in your garden. Check out the tutorial from Sew Caroline. I find these instructions are super easy using a basic hanging planter. You can make this same project using multiple chairs for a little cheaper if you use chicken wire and coconut liners like they did at Love Where You Live.
Tire Planters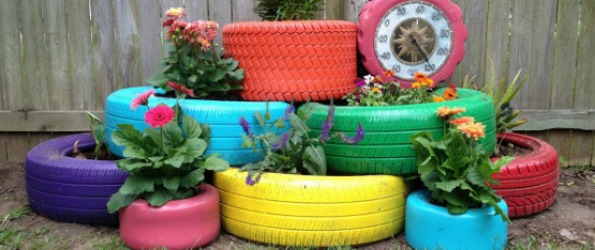 Next time you buy new tires, take the old ones home. This colourful tire planter is begging to be in your backyard. Check out the tutorial over atLemon, Bean and Things. I would myself start with only one or two tires, but this stacked planter is a super cute backyard feature.
Denim Jeans Planter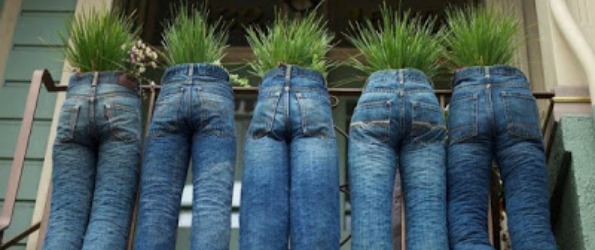 I am dying of laughter while I write up this one. Check out these hilarious denim jean planters over at Upcycled Garden Style. Place a plastic bag in each leg, then fill with dirt and add your plants. I may have to try one of these for each member of our family. Toddler jeans would be hilarious for this project also!
Colander Planter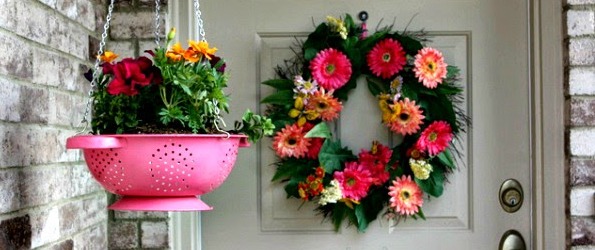 Here is a classic idea, turn a colander into a planter. Colanders make great planters as they already have holes for air. Stop by Mommy's Kitchen to see her great tutorial on how to make a hanging basket version. You could just as easily set this on the ground on your patio or backyard.
Cartoon Plastic Container Planters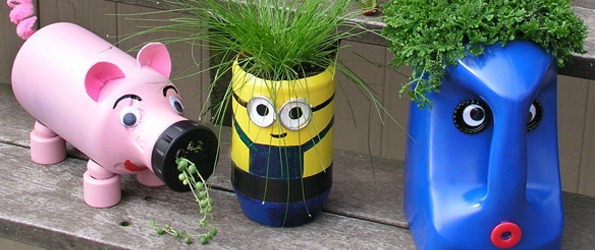 Make some hilarious planters thanks to The Creative Chameleon. These funny planters will have you raiding your recycling bin for laundry soap bottles, dish soap bottles, and other plastic containers. Make sure to wash any residue from the inside of the bottle really well before your plant.
Wagon Planter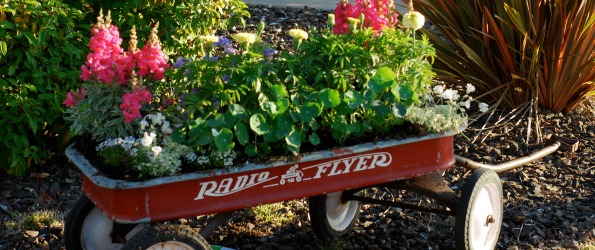 Drill a few drainage holes in the bottom, and you can turn any wagon into an easy planter. Check out the photos over on Cre8tive Designs Inc. I have seen wooden wagons that are not functional sell for over $100. this would also be a really cute place to focus your herb garden.
For more garden projects, check out Eva's past post 7 Re-Purposed Ideas to Make Your Garden Funky.
Bargainmoosers, what creative planters have you made?
(Image Credit:Chiot's Run)