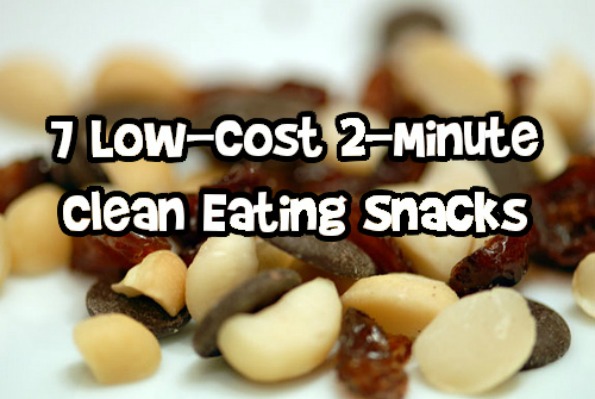 I've been busting my butt for the last three months at the gym and all I've seen is weight gain! Apparently 70% of losing weight is diet, so I'm going to have to tweak mine. I've decided to do a clean eating regimen, but when I made out the grocery list I was overwhelmed with ingredients. I have very little time in the day to make snacks - I basically need something that is grab and go and I get sick of apples and bananas. I decided to research snacks that were quick to make, clean and low-cost. Here are is my compilation.
So freaking simple and incredibly tasty and low-cal, this cucumber salad is fresh and alive! It reminds me of the simple dish of cucumber and vinegar, but this one has some complexity! I got this recipe from my most favourite food magazine - Saveur.

Who says you can't lose weight AND eat chocolate? This clean snack mix consists of almonds, raisins and chocolate chips. Not only will you fulfill that chocolate craving, but you'll get some protein in there too. This snack mix probably takes all of one minute to make and is a much cheaper alternative than buying snack mix. Taylor Made By Taylor Bee has the instructions (if you need them).

A little more of a filling snack, all you need is the head of a pepper and an egg. These flower power eggs are bright, healthy and frugal (how much does one egg cost?). With a total prep time of less than a minute and a total cost of less than $1, you've got a great snack from Apron Strings.

Some people crave chocolate, some crave candy, I crave popcorn! Put a bowl in front of me and I'll eat the whole thing, then lick the bowl. True story. If you've never tried popcorn made with coconut oil,  you are so missing out. Coconut oil is the best oil to cook popcorn in as it adds flavour and is a medium chain fatty acid that actually helps with weight loss - it is a fat you want to ingest! With the simple addition of lime and spices, this popcorn is so much better than the microwave kind. I am so making this, thanks to Shutterbean.

Seriously, what goes better together than banana and peanut butter? Elvis knew, but we don't have to make a sandwich of it and add all that expensive and calorie-loaded bread. These little bites can be made with peanut butter or any other type of nut butter like almond or cashew or even with non-nut butters. I'm drooling thinking about this snack right now. All it takes is the time to cut up a banana or two and spread your topping, and the cost is minimal. The recipe is located at Fort Mills SC Living.

You may think you won't like edamame, but once you have it, you'll love it. Even my pickiest children love it! So simple, you can easily just boil it then add your dressing, which can be anything, but in this case from Lauren Ariza it is garlic, soy and lemon, which sounds fabulous. A bag of frozen edamame is so inexpensive, but this powerhouse packs a huge protein punch, especially for the cost.

Kale chips are your friend, and contrary to common belief, they don't taste, look or feel like regular chips. But that doesn't mean they aren't so good. I remember serving them to my one-year-old, who had no teeth so traditional greens were out of the question, but these he ravished and made quite the green mess, but I loved it! Bembu has 15 kale recipes for this very quick and healthy snack.
Bargainmoosers, what is your favourite quick, cheap and healthy snack?
Photo credit: Elana's Pantry