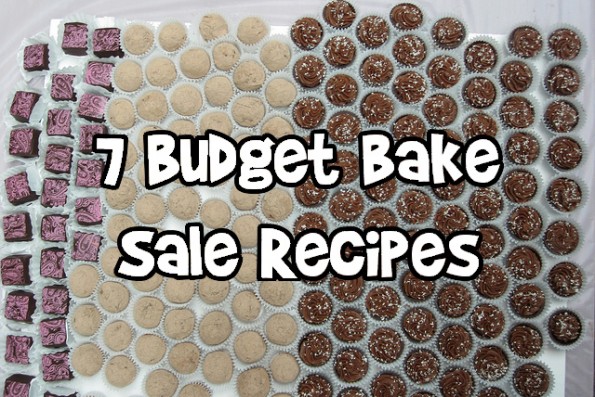 I have a preschool fun fair coming up this weekend for which I need to make items for the bake sale. Following that, I have to make goodies for my son's class while they do their EQAO testing, and then after that I am sending in some treats for my son's birthday, which falls in the summer, but they celebrate it in class in June. After baking all these treats, my wallet could be empty. I decided to search for easy to make treats that have no nuts, are delicious, easy to share and don't cost a lot. Of course I had to share them with you too.

Better than the average Rice Krispie square, these have the added touch you'll want to sell them, including a little icing, a little sprinkles and a cake pop stick. You could sell these for $1 each because of the fanciness, whereas the plain old squares would only go for a quarter. Get the recipe at Party-Wagon.

How cute are these flowerpot cupcakes? So easy and cheap, you just need cake mix, ice cream cones and candy and you know all the kids will fall for them. Thank Gooseberry Patch for the recipe.

I would be all over these pretzel sticks and probably buy all of them! Something so good about pretzels and chocolate I really can't resist. These are so good, I bet they could sell in pairs for $1 each and they won't cost very much at all to make and super easy too. Just take it from Squidoo!

Jello is notoriously cheap, especially when you get it on sale. These jello cups would cost you close to nothing to make, but you know they'll be irresistible to all the kids! Follow the red, white and blue theme or create your own rainbow theme. The recipe is at Cupcake Diaries Blog.

If there is something else I and probably the rest of the bake sale buying world can't resist, it could be caramel corn. Popcorn is so easy to make and very inexpensive, your caramel (which really is just butter and sugar) will be your most costly part. But, you can make such a large batch that your total cost is very little. Get a delicious caramel corn recipe at Ruffled Blog.

Just because it is bake sale, doesn't mean you need to bake. These candy in an ice cream cone is so simple, it will sell for sure. I got this fantastic idea from Parenting.com.

Cereal, marshmallows, chocolate chips - these are all easy ingredients and not too expensive. Mix them together, bag them and you've got yourself a nice dessert trail mix that kids will love. Mommy's Kitchen calls these old fashioned smores trail mix.
Bargainmoosers, which of these recipes are you going to try?
Photo credit: Widener University School of Law