Treating your mom and guests to a beautiful Mother's Day brunch this year?If you've been as busy as we have and still haven't done much to prepare, never fear, we're here to help! Rest assured there is still time to plan the perfect day.
The trick? Keep it simple and stylish with these six easy steps:
1. Create A Simple but Stunning Table Setting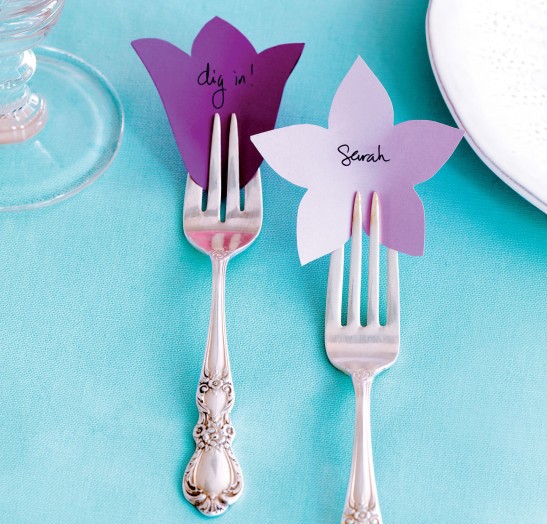 The brunch table doesn't need to be overly fancy, but a little effort goes a long way. Lay out a fresh clean table cloth in a pretty colour if you have one, if not crisp white always does the trick. Stick to all white dishes and add a pop of colour with this simple but lovely place-setting idea from Chatelaine. Cut out simple shapes, like hearts or flowers using coloured paper, write cute notes and guest's names and slide them in the prongs of the forks. Enlist the kids to help!
2. Add Fresh Flowers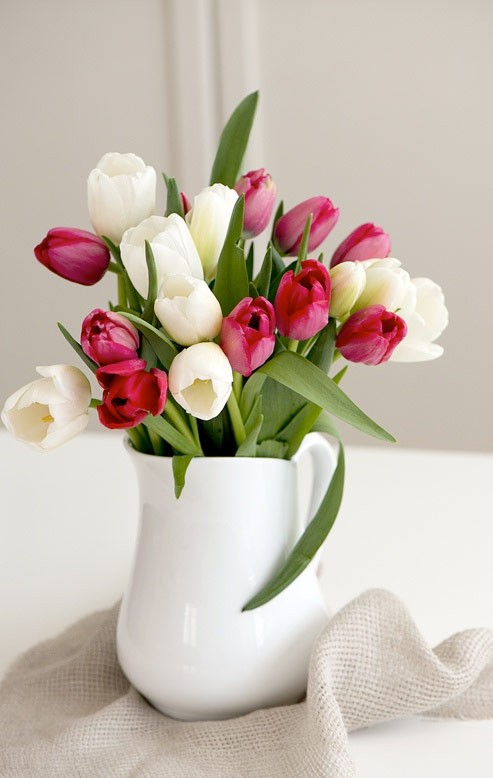 Mother's Day is synonymous with fresh flowers, of course. A lovely bouquet will always be the most stunning and simple centrepiece you can have. Tulips are widely available at this time of year—toss them in your grocery cart—they are relatively inexpensive and absolutely gorgeous in just about any vessel you can dream up. We love them displayed in a plain white pitcher, which you could pick up for next to nada from Ikea, or sometimes even your local dollar store. Let Mom take the flowers and vase home with with her as a special bonus prezzie! (Image source: Pinterest)
3. A Simple Yet Scrumptious Appetizer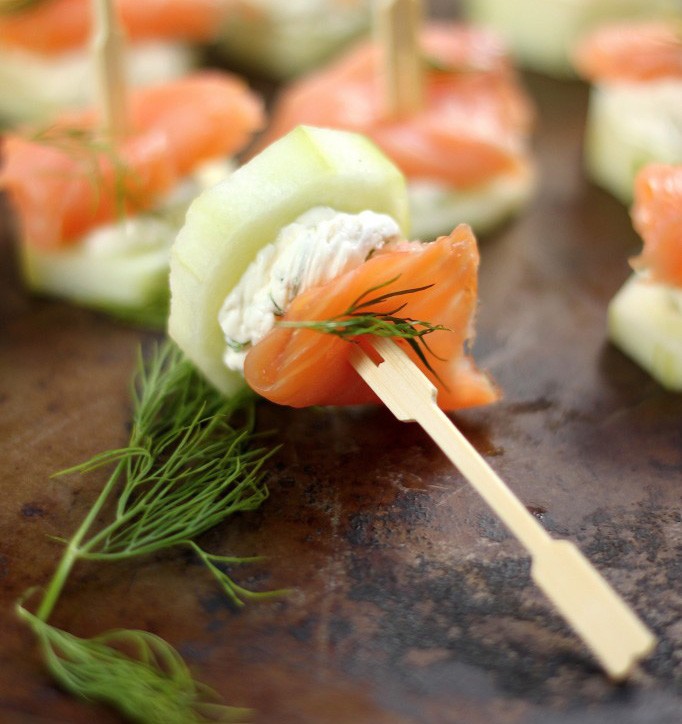 As guests are arriving and you're putting final touches on your main course, it's always nice to lay out some nibbles. Again, this could be as simple as a fruit platter or cheese and crackers, but if you want do something a little unique for this special day, why not try these Smoked Salmon and Cream Cheese Cucumber bites from Baker by Nature? You will want to assemble them close to serving time, so this is not one to make the night before, but they are easy to make just before your guests show up so their ready for munching immediately.
4. Don't Forget About Beverages!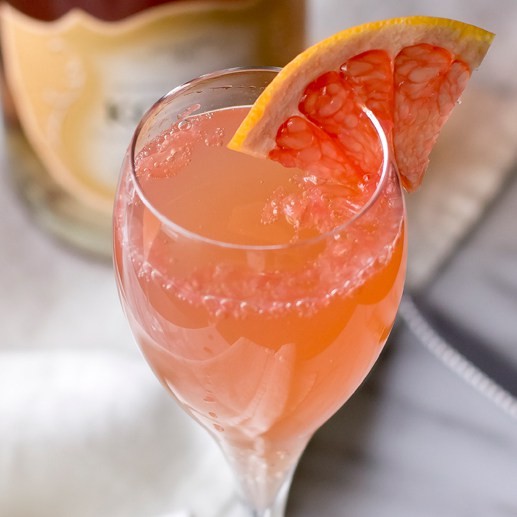 Coffee and tea are an absolute must, so make sure to be prepared to brew, but it's always a nice touch to have something a little stronger on offer at a celebration. We Canadians love our brunch Caesars, it's a classic and a crowd-pleaser for sure, but f you prefer something with a bit more sparkle, mimosas are the way to go. How pretty are these pink grapefruit cocktails? They are super simple to make, you can get the full recipe for the ones pictured above from The Gourmet Gourmand.

5. Get Your Eat On...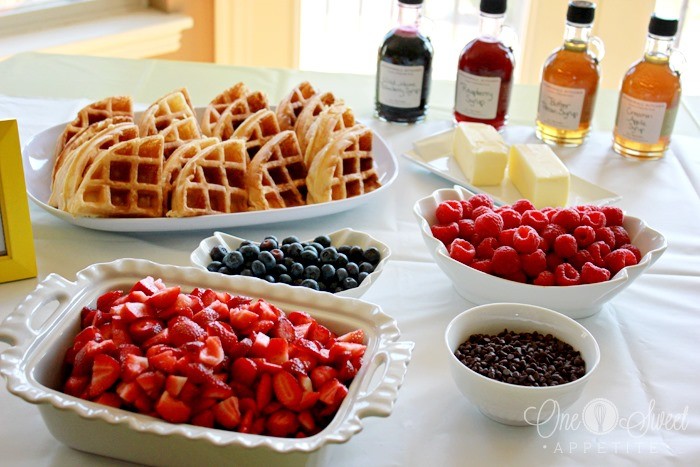 Depending on what kind of crowd you're feeding, brunch foods can be tricky. Probably best to avoid eggs and bacon, unless you want to spend most of your party in the kitchen cooking real-time. Laying out a buffet-style meal is always a crowd pleaser and most of it can be prepared in advance. How genius is this idea from One Sweet Appetite? Waffle bar! Lay out bowls of fresh fruit, syrups and compotes and even chocolate chips. The batter for your waffles can even be prepared the night before, just make sure to use a recipe that allows for refridgeration. Then, grab your waffle iron and cook up a stack! Fresh whipped cream can also be quickly whipped up just before serving.
6. Finish with Finesse—Favours!

Unless you can order something for store pick-up it's probably too late to buy a gift for Mom online and have it in time for Sunday. Of course, there are some gifts you can give that won't cost you a dime. If you have it in you to make something, we've put together a list of DIY spa treatments you still have time to whip together.
But if you're hosting a considerable group, it's always classy and cute to send everyone home with a sweet little favour to remind them of the day. If you can get to a garden store and pick up a tray of mixed mini succulents, all you need are some small pots—again something you can often get a the dollar store. These neon painted terracotta pots fromI Spy DIY are brilliant, but this gift idea works just as well if pots are left unpainted.
Are you hosting a special event for your mom? Or perhaps a gathering of mom-friends? We'd love to hear about what you have planned. Share with us in the comments below, or visit us on our Facebook page.
Happy Mother's Day!