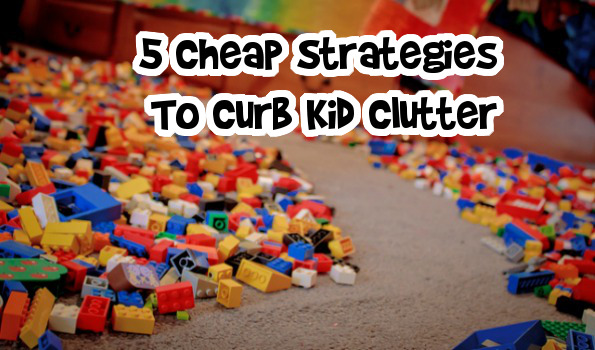 If you have a kid or three, you may be experiencing a bit of toy and kid clutter around the house. I thought I had just cleaned out the toys before the holidays, yet every few days it looks like hurricane kid hit my living room. When our home gets so crazy we cannot see the floor, it means we lose items like hats, toys, books and that camera cable I meant to put away. We end up replacing items that are already in our house. Items also tend to become broken, which can add up to big bucks in replacements. Use some of these strategies and you too will stop wasting money on replacement items.
Bins, Bins, Bins!
Decorative bins and boxes are your best friend when trying to curb clutter. Bins are great for toys, and can be used for a variety of kid items. The secret to bin storage is keeping the categories broad so toys can be picked up quickly when playtime is over. My dear mother thought she would simplify my Barbie dolls when I was a kid, by placing similar accessory items in plastic bags. I found it such a hassle to sort each accessory type into the bags that I stopped playing with the dolls.  The alternative of leaving them in a pile on the floor was not an option with my mother (love you mom!). I know my parents spent a fair amount of money gifting me Barbie dolls they thought I would enjoy.
In contrast, one of the bins for my daughter's toys we have simply named "stuff to take care of baby dolls." In the bin, you would find a random assortment of clothes, bibs, play diapers and anything else that is used to take care of baby dolls.  I find that by keeping the bin categories broader, my daughter finds new ways to use them together and we can find them. You can pick up inexpensive bins at the dollar store or another discount store to help you get started on the cheap.
Utilize Under The Bed Storage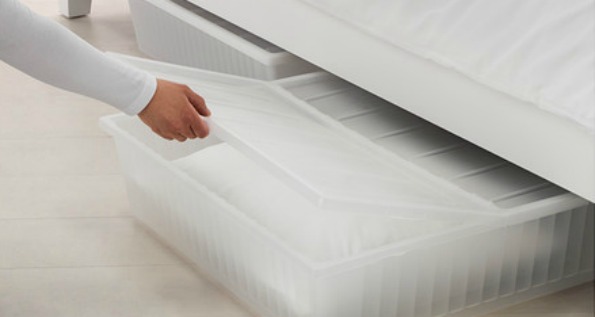 Under the bed storage is some of the least utilized space from speaking to friends. Buy a couple of slim containers such as this GIMSE bin from IKEA for $12.99 to take full advantage of this space. Under the bed is where I store extra clothing I have purchased on discount, but is currently too big for my child. Stashing these clothes under the bed in a slim but long bin helps me to see quickly what I have already purchased for the coming season. This also helps keep me from over purchasing clothing, as I have limited the amount of space for storage. By keeping everything together, I can keep the bins accessible but still slide it out of the way quickly. This storage space could also be used for extra linens, towels, storage for kids crafts to be saved and more.
Store Toys Up The Door
Use over the door shoe holders, such as this Whitmor version on Amazon.ca, as a cheap inexpensive toy storage. This type of storage is particularly great for small toys such as cars, action figures, small stuffed animals and Barbie type dolls. Check out this post from Organize Your Stuff Now for a great example of small action figures in a shoe holder. Eva here at Bargainmoose even mentioned she has used one of these shoe storage containers to keep the whole families mitts and hats in one place.
I like using clear plastic versions specifically for toys that have many small parts so my kid can find the accessory they are looking for.  It is much better to have those tiny toys find their way back to the back of the door then to destroy your vacuum.  It also means less times you spend replacing  a specific Minnie Mouse or Teenage Mutant Ninja Turtle that has been lost… somewhere….
Create A Drop Spot Near The Front Door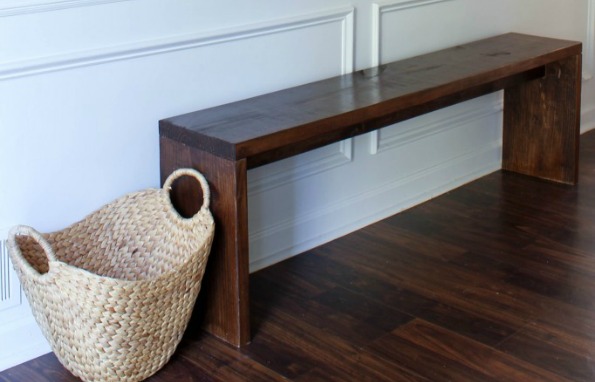 A drop spot can hold a variety of items from your car keys, your purse, your kid's book bags and the cookies you promised to bring in for that potluck. Creating a drop spot right by the front door ensures you will have everything together in one place. You will also spend less money replacing items on the go that you forgot at home. A simple small table or a few hooks by the door completes your space. DIY On The Cheap has a great basic example that includes a bench, some hooks and a basket for shoes. If you are handy with tools, they also give plans to build a the bench featured. Once you have your set-up, simply drop anything you need in the drop spot the night before or in the morning as you are preparing for the day. Save the last minute trip to the store for the replacement snack and use your drop spot to remember everything you need.
Toy Rotation
Extend the interest in your kid's toys by rotating a few in and out of the play space. First find a small storage space that is somewhat hidden away from the kids such as a closet or a corner of the basement. Every few months pack up some of the toys from the bottom of the toy box and place them in your storage space. At the same time, you can rotate in a few new toys into the play space to keep things interesting. Fewer toys out all at once means less overall toy clutter.
Bargainmoosers, what do you do to curb the kid clutter?
(Image Credit: Sharon Drummond)