WagJag Canada: Full-Size Craveyard Chocolate Bars Only $36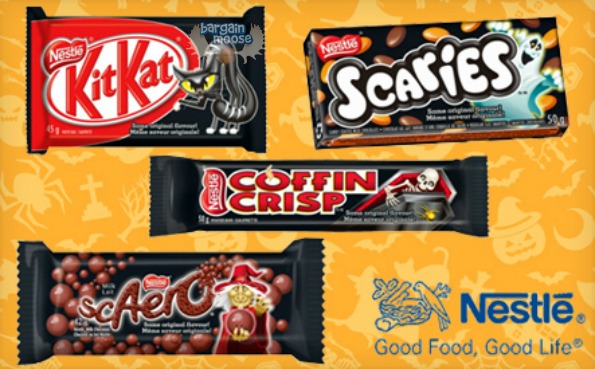 Get ready for Halloween with these unique chocolate bars from WagJag. Get 48 full-size Nestle chocolate bars with unique scary names, perfect for trick and treaters! Was $70, now $36 including shipping.
I have to admit I have a love affair with chocolate. Every year at Halloween I say I won't buy chocolate because I eat the leftovers and even eat a whole bag before Halloween (even when I buy it on October 30th). My weight seemingly goes up from October to January and I know its that Thanksgiving/Halloween/Christmas combo that does it. But, this deal is too good pass up and I think since these are special chocolate bars, I'd save them for the kids. Maybe. These would also be great as giveaways at a Halloween party, since they are the full-size ones.
You can choose between the following flavours (and are allowed only one box of each variety per person):
Kit Kat
Scaries (Smarties)
Coffin Crisp (Coffee Crisp)
ScAero (Aero)
Simply buy the deal, enter your shipping information and these will ship to you two to four weeks after deal end, but will definitely be there by October 31st.
(Expiry: 22nd September 2013)