Try NEW P&G brandPACK from $4.99 Shipped!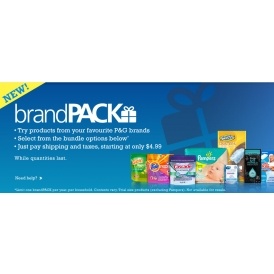 If you've ever wanted to try a new product before paying out for the full sized version, check out brandPACK, a new concept from P&G for families in Canada. This lets you try new products free of charge, all you have to pay is shipping and fees, and the total price you'll pay is as little as $4.99.
It really is incredible value. It you choose "Bundle A" you'll pay just $4.99 and receive a pack of 20 Pampers Swaddlers, a sample of Downy Unstoppables and one of Tide PODS. There's five bundles to choose from and each one is clearly marked with the price you'll pay and what's included.
As you'd expect from an offer like this the limit is one brandPACK per household per year, so make sure you choose wisely!
We all love saving money on our grocery shopping and while you're on the site, check out the print-at-home coupons. There's currently $55 of coupons here, saving you even more money on lots of big name brands.