Tim Hortons: Small Caramel Iced Coffee Only $1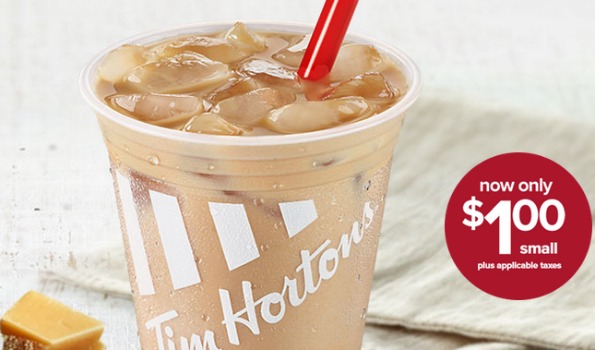 Tim Hortons has a new sweet special for coffee addicts like me. Right now, you can grab a Small Caramel Iced Coffee for only $1 at participating locations.
I have spoken several times about my slight coffee addiction here on Bargainmoose. I do love Starbucks when they have deals, but for every day, Tim Hortons is my coffee of choice. Now Tim Hortons is singing the caffeine siren song with these awesome $1 Caramel Iced Coffees.  If I am remembering correctly, a small iced coffee costs about $1.50, but if anyone knows the exact price please note it in the comments.
This drink is straightforward and yummy. Included in your cup will be coffee, ice, cream and caramel. I usually lean towards an iced cappuccino, but this drink will sway me at this price to give something new a try. I sometimes order the regular iced coffees in summer as a cold alternative to a more decadent drink. You can also ask for regular milk instead of cream to lighten your calories a bit more.
If you are craving one of those super decadent drinks, you could also substitute chocolate milk for cream. I substitute chocolate milk occasionally in an iced cappuccino at no extra cost, and it is delicious. The chocolate milk will give you a nice taste of chocolate yumminess mixed with that caramel. This is a nice alternative to the Chocolate Chill drinks, which are more expensive. While that chocolate drink looks delicious, it seems to be a little too much chocolate for me.
Over at Tim Hortons' website, they have also included a little game with this iced caramel coffee announcement. Use your arrow keys to move and combine matching tiles. Each time you combine the tiles and unlock a new tile, the tile appears at the bottom of the game. I tried to see how far I could get in the game, hoping Tim Hortons would throw me a free coffee or coupon as a reward. I played for a couple rounds before I gave up, only managing to unlock eight different tiles. Bargainmoosers, if you play and manage to unlock all of the tiles, please report back as to what happens! Is it just a, "Congratulations, You Won," note or is it something more?
Tim Hortons does not specify how long this promotion will be available. If you are interested in trying this drink for only a buck, you may want to swing by a Tim Hortons soon.
(Expiry: Unknown)