Take $5 Off $15, $10 Off $30 & $15 off $45 With This Coupon @ East Side Mario's Canada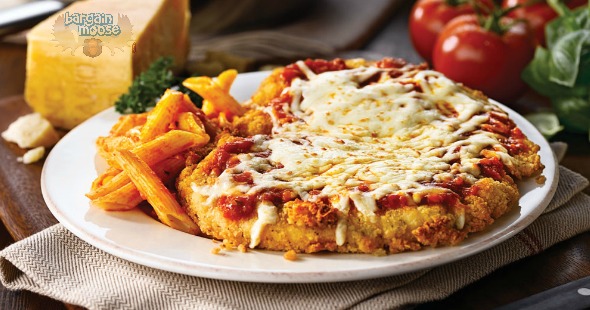 Perhaps you are planning on dining at a restaurant with your family or friends this week. If so, you will want to take a look at this new offer from East Side Mario's restaurant Canada. For a limited time with this printable coupon, you can take up to $15 off your meal. Save $5 when you spend $15, save $10 when you spend $30 and save $15 when you spend $45. This coupon is valid until the 1st of February 2015.
Print this coupon and go into your local East Side Mario's restaurant (excluding Newfoundland for some reason) to enjoy your savings. This coupon can only be redeemed between Sunday and Thursday unfortunately, but to be honest I prefer not to hit local restaurants on a Friday or Saturday. Sunday to Thursday you won't have to wait so long for your meal because the restaurant will not be too busy.
Here are how these East Side Mario's coupon savings work:
save $5 on your bill when you spend $15
save $10 on your bill when you spend $30
save $15 on your bill when you spend $45
At East Side Mario's, I find it easy to spend $45. There appetizers and entrees all appeal to my taste buds. Of course, everyone has their own opinion. If you love pasta dishes, I would suggest trying their Spaghettini & Meatballs for just $12.99. This pasta is served in a delicious Napolitana sauce. You will also get some of East Side Mario's famous meatballs and shredded Parmesan cheese. If you know exactly how you like your pasta dish, then build your own pasta for just $12.99 as well.
There are lots of affordable options for your entire family.Kids can even eat for as little as $5 each. There are quite a few Mini Mario Meals for all of your picky eaters too. My son seems to truly enjoy their Big Kids Chicken Fingers. There are other options like Cheese Quesadilla, Grilled Cheese Soldiers. Pizza and more.
You can use this coupon as many times as you like at your local East Side Mario's restaurant, but unfortunately you are limited to one coupon per visit. This ESM coupon is valid on dine-in purchases only, and unfortunately alcohol and taxes are not included. Make sure you print the coupon or your discount will not be offered.
(Expiry: 1st February 2015)