Taco Bell Printable Coupon: Quesarito Combo Meal For 2 - Just $9.99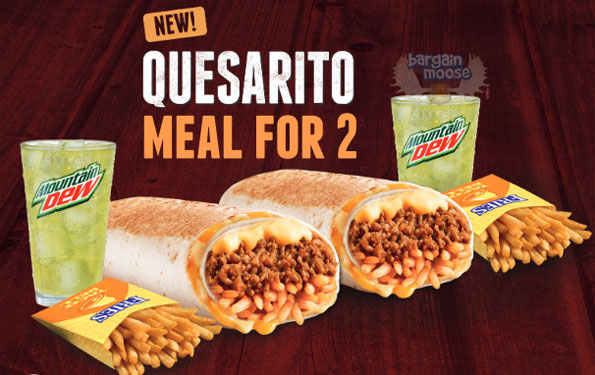 Don't feel like cooking tonight? Then here's an awesome printable coupon for Taco Bell: print it out to get a Quesarito meal for 2 for just $9.99.
I have to say that I'm actually really surprised that with this printable coupon, you will get two combos for $9.99. I had to read the fine print a couple of times to make sure that I wasn't reading what I wanted to read but yes indeed, you will get:
2 beef Quesaritos
2 regular fries
2 regular drinks
A meal for 2 for essentially $10 is pretty awesome nowadays. I hardly ever get junk food for this reason but without any printable coupons, you can definitely expect to pay double that price for most meals, if not more!
Trying to find out what's inside this quesarito proved slightly challenging. Judging by the picture above, I would have guessed that it's filled with beer, cheese and fries but poking around online, I found a description at TacoBell.com that it's filled with rice rather than the fries that I seem to see. The Canadian version of Taco Bell's site hasn't been updated yet with the new addition, but all it says in reference to it is: "a cheesy quesedilla, wrapped around a beefy burrito" with no mention of any fries or rice.
In any case, this is a minor detail that you can find out in-stores and anyways, do you really need anything other than beef and cheese? ;)
I'm particularly intrigued by the fact that it's a beef burrito wrapped in a cheesy quesadilla. That sounds beyond delicious and I definitely can't wait to give it a try!
As always, you can find this Taco Bell printable coupon on the Bargainmose forum. In case you didn't know, you can also subscribe to get the latest coupons straight into your inbox.
(Expiry: 6th July 2015)