Taco Bell Canada Freebie: Free Loaded Griller With Combo Purchase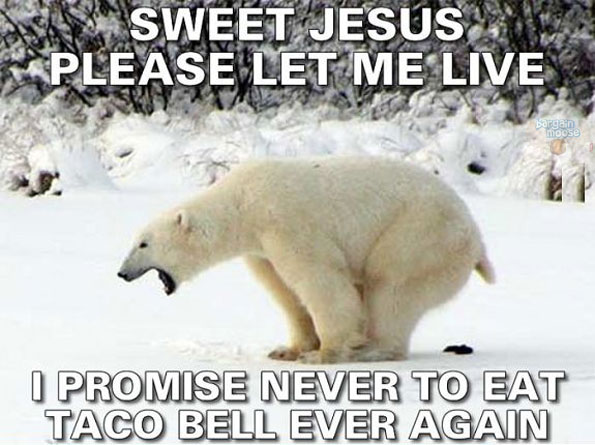 Oh my goodness, is your mouth watering already? Mine definitely is! Until nearly the end of April, you can print this Taco Bell coupon to get a loaded griller for absolutely free with purchase of any combo worth over $5.99
Taco Bell has both a good and bad rep... good because it's so delicious in your mouth but then bad because of what happens after that for some people. The image above is a good example of what I mean.
Don't let the meme above deter you from getting this Taco Bell freebie though as free food is never worth passing up, especially since you can choose between the following four varieties of loaded grillers:
5 layer dip loaded griller
Beefy nacho loaded griller
Chili cheese fries loaded griller
Chipotle chicken loaded griller
I have to admit that I haven't tried any of those but if I was faced with an inquiring cashier waiting for my answer on which one I want, I would most likely go with the 5 layer dip as I love all thing saucy or perhaps the chipotle chicken one as it sounds somewhat healthy... hehe.
The chili cheese fries is definitely an interesting combination as well as it has actual fries inside, along with chili and nacho cheese sauce... sounds perplexing and yet oh so good!
Do keep in mind that you need to buy a combo priced at $5.99 or more to get this freebie but since loaded grillers are considered to be appetizers, then you will basically be getting a complete meal for less than usual. A combo consists of either a taco, burrito or other specialty food item that is then pair with fries and a regular 20oz fountain drink.
Not sure that you could eat this entire meal or want to avoid the calories? Then you could always give the loaded griller to a friend and then share both the fries and the drink. You could perhaps get the chicken quesadilla as your mail meal as it has four slices that can easily be shared between two people.
For more Taco Bell printable coupons, be sure to keep an eye on the Bargainmoose forum.
(Image Credit: Memes.com)
(Expiry: 26th April 2015)