Real Canadian Superstore: Free $25 Gift Card (Spend $250) & More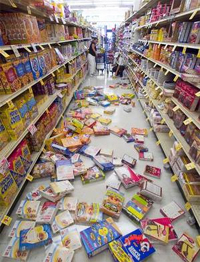 Quick post: here's another great Superstore coupon for those of you who spend a lot of money there. If you spend $250, you will get a free $25 gift card.
Sorry for the low quality of the coupon, that's what it was like when it came from their flyer. The small print is quite hard to read, but it only states all the usual stuff, about it not being applicable to tobacco, prescriptions, etc.
The coupon is valid in western locations, including Yukon, BC, Alberta, Saskatchewan, and Manitoba (also available in Thunder Bay). The discount coupon is only valid for a few days, and will expire on Friday the 19th September 2009.
Secondly, there is another coupon on their website which will get you a $10 discount if you spend $50 or more on Joe Fresh apparel. It also expires tomorrow, so use it fast!
Happy shopping!