(Printable Coupons) A&W Canada: Free Buddy Burger Or Coffee & Hashbrown (With Purchase)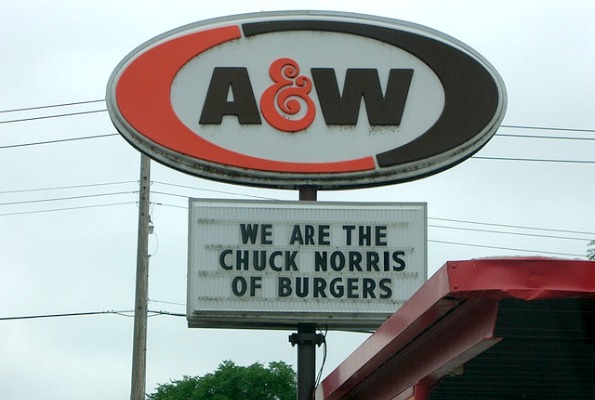 Need an excuse to swing by A&W for a meal? Right now, you can grab a few new printable coupons and receive a free Buddy Burger or grab a free coffee and hashbrown for breakfast with purchase.
(You'll have to sign up on the above site to get the free printable coupons)
I try not to hit the drive-thru very often. I took my daughter to A&W not long ago for her first rootbeer during their last promotion, which Brooke blogged about last month. My daughter liked the lollipop they gave her, but would barely touch the rootbeer. Every time we pass by any A&W now she says "Remember when we went there and had that drink and I had a lolly? Do you remember Mommy?" Even though she has never eaten a meal there, A&W is regularly promoted now from the backseat of my car.
If you are feeling a little hungry, you should keep these printable coupons in your car for your next quick meal. Included are the following discounts and freebies with purchase:
Free Buddy Burger with cheese with the purchase of any combo meal
Free 12oz. coffee and hashbrown with the purchase of any breakfast sandwich
Add an extra patty to a Teen Burger or a Mozza Burger free
Upgrade from fries to sweet potato fries on individual purchase or combo meal free
To print these coupons, you must login or signup for a free account. Once you sign in, there is also an option to send a free rootbeer coupon to a friend. My husband loves free rootbeer so I might send one his way. A&W will only let you use one coupon per transaction. You should be able to checkout separately if you go with another person.
The first coupon for the free Buddy Burger could easily feed both my daughter and me for around $9. Most combos cost about $8 to $10 depending on your location, and that free Buddy Burger should save you about $4. Your prices may vary, but I did find some pricing online for a location in Sudbury, Ontario. If you have not tried those sweet potato fries, they are more delicious then the normal fries. I usually make my own homemade orange fries, but I can never get them as crispy in my oven as A&W can crisp them in the fryer!
Image Credit: Keith Fahlgren
(Expiry: 21st June 2015)