PepsiCo Snacks Spend $20 Get $20 Deal Starts Soon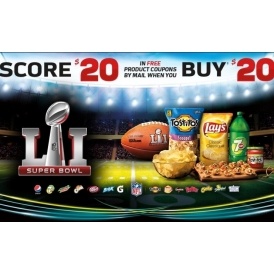 Ruffles, Munchies, Cheetos and more are awesome. They're better when you find them on sale and are best yet when you get double the bang for your buck by getting coupons for free products! Starting this Sun., Jan. 1st you can do that!
To get in on this offer, spend $20 of qualifying PepsiCo products at a Canadian retailer on a single receipt, then upload it to get $20 worth of free product coupons for PepsiCo Products to use in the New Year!
Products must be purchased between January 1, 2017 and February 14, 2017 in the same transaction, and receipts must be uploaded by February 17, 2017. Allow 4-6 weeks after February 17, 2017 for delivery of coupon booklet by mail. Limit one (1) offer per address or household.
I would defnitely buy sooner rather than later, to make sure you get in on this promo since this offer is valid while supplies last.
Here are the qualifying products:
†† Participating PepsiCo products (any size/variety/flavour): Lay's*, Doritos*, Tostitos*, Ruffles*, Munchies* Snack Mix, Smartfood*, Rold Gold*, Cheetos*, Chester's*, Crispy Minis* snacks; Tostitos* or Ruffles* salsa/dips; Pepsi*, 7UP*, Mountain Dew*, Mug*, Schweppes**, Crush**, Dr Pepper** soft drinks, Brisk® beverages, Gatorade* and G2* products.

Enjoy your munchies!!