M&M Meatshops Charity BBQ This Saturday!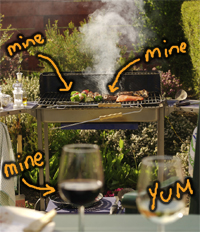 Bargainmoose reader Erin emailed me to day to say:
Just wanted to let you know that this Saturday, May 9th, M&M Meat Shop's is hosting their annual Charity BBQ Day across Canada.
Thanks Erin!
It seems to be a pretty decent offer! M&M Meat Shops are running the charity barbecue to raise money for the Crohn's and Colitis Foundation of Canada. It will be held this Saturday, the 9th of May 2009, from 10am to 4pm.
This is the crux of the offer – you can get a hamburger or hot doggie, a drink and a bag of chippies for a minimum donation of only $2.50. That's really cheap! If I was going, I'd probably throw in a few extra dollars, as it's for charity anyway. Could be a good day out for you and the kids?
Let me know if you enjoy your burger!
Thanks to alisdair.