Make $28 For Buying Groceries Online At Walmart.ca!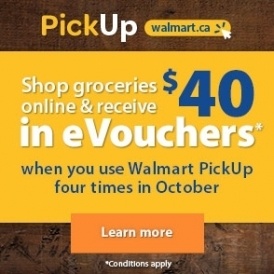 "I love taking all my kids to pick up groceries!" said no one. Ever. When I need to pick up some groceries but don't feel up to listening to cries of "Mom, can I have that sugary cereal?", I turn to Walmart PickUp.
From the comfort of my own couch, I select my groceries on Walmart.ca and schedule a pickup timeframe at my local store. I arrive at my local store at the designated time, park in the marked area and my groceries are delivered to my minivan. No more whining for candy in the checkout line!
Walmart PickUp is available for grocery orders that cost more than $50 and the service costs $3.00 per order. However, let Walmart do your shopping for you during the month of October and they will and pay you! Use Walmart PickUp four times during the month of October and will reward you with $40 in eVouchers. At a total cost of $12 for four grocery pickups, that means that you will earn $28 all for having someone else do your shopping.
Don't forget about price matching either. If you find a lower advertised price from a competitor, simply complete an online form and you will be reimbursed the difference.
I have taken advantage of this offer twice previously and I like to put my order in on the same day every week so I don't forget to get my four orders in. And this time I will definitely be adding boxes of Halloween candy. For the kids of course!