Lindt Canada: 10% - 30% Off In-Stores Only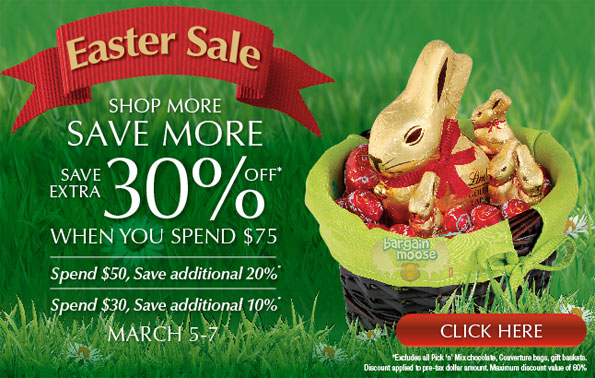 Ready, set, hunt! Easter is next month and that means that, you guessed it, the time has come to get ready for egg hunts! Better yet, get all your chocolate at a Lindt Boutique now because during only 3 days, you can take advantage of their "shop more, save more" event with a maximum of 30% off purchases over $75. The only exclusions are on gift baskets, couveture bags and pick 'n mix chocolate.
Let's be honest here, while you can most certainly use this opportunity to stock up for next month's egg hunt, you could just as well refill your own private chocolate pantry instead! ;) And don't forget that some Lindt stores are bound to still have already discounted Valentine's Day merchandise that you could add to your basket as well.
Alternatively, if there's a birthday coming up, there is also the option of using this opportunity to prepare a chocolate basket as gift. The gift's recipient certainly doesn't need to know that you didn't pay full price for the chocolatey treasures.
Here's the breakdown of how much you can expect to save based on your order total:
10% off $30+
20% off $50+
30% off $75+
Of course, being a huge Lindt, and most importantly chocolate, lover, I would definitely recommend that you try to get $75 worth of chocolate because that means you could save at least $22.50 and pay just $52.50!
Will you be organizing an egg hunt for your kids this year would you prefer to get chocolate for yourself?
(Expiry: 7th March 2014)