Kraft Samplicious: $9.99 for $40 Value of Kraft products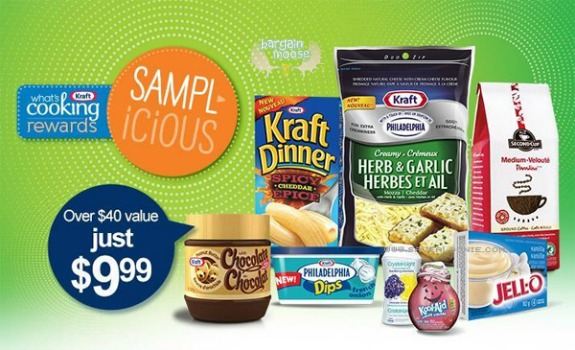 Kraft is offering their annual Samplicious box filled with full-size samples, coupons and easy-to-make recipes. For $9.99 you will receive over $40 worth of products and savings, plus recipes and ideas to tantalize your taste buds.
If your children are anything like mine, they love their peanut butter and Kraft Dinner. And if you are anything like me, I always need a back up "busy night" meal. That being said, we opt for the all natural Kraft peanut butter to try and save some of the sugar calories where we can, especially because if it were up to them they would have peanut butter morning, noon and night. We will also occasionally buy Kraft Dinner, however to appease my concerns with healthy choices, we pick up the Smart KD.
I have signed up for the Kraft Samplicious box, despite the fact that the peanut butter has chocolate in it. My eldest son will eat the shredded cheese on nachos no problem and the other items will be good to have on hand this summer to do some experimenting with the taste buds. One of my goals this summer is to expand their food choices so going back to school their school lunches will have a few more options.
Of course hubby and I will use the ground coffee, no question. So overall this Samplicious box is definitely a money saver for my family.
Each Samplicious box contains:
1 pkg. Kraft Shredded Cheese with a Touch of Philadelphia (300g) (Coupon)
1 pkg. Crystal Light Liquid Drink Mix – Blackberry Lemonbabe (48ml)
1 pkg. Second Cup® Paradiso® Medium Roast Ground Coffee (340g)
1 pkg. Kool-Aid Liquid Drink Mix – Cherry (48ml)
1 jar Kraft Peanut Butter with Chocolate (500g)
1 pkg. Kraft Dinner Spicy Cheddar Macaroni & Cheese (156g)
1 tub Kraft Philadelphia French Onion Dip (227g) (Coupon)
1 pkg. Jell-O Instant Pudding – Vanilla (102g)
This is only available for a limited time and quantities are limited as well.
(Expiry: 15th August 2014)