Keurig Canada: Free 24 K-Cup Box Of Tea With Purchase Of 4 Boxes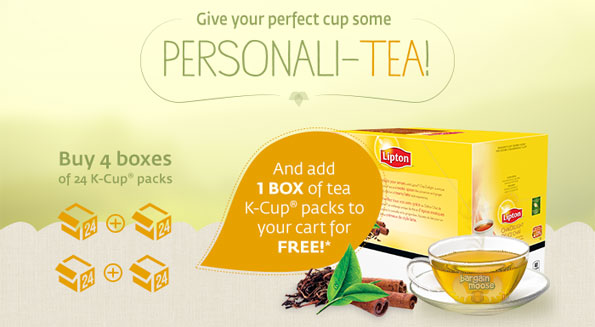 Are you both a coffee and tea addict? Then here's an offer that you surely won't want to miss: for a limited time, you can get a free 24 K-Cup box of tea with purchase of any 4 boxes of 24 K-Cups at Keurig. Simply add all the boxes you want and the tea box will automatically be reduced to just $0.
This is a problem I face constantly: I keep telling myself that I'll wait until the next awesome Keurig promotion to stock up on K-Cups, only to pass up great offer after great offer with the thought that there might be something even better coming, only to then completely run out of K-Cups. And if you are a complete coffee addict like me, then I'm sure you can understand the dangerous effects of such a scenario happening: overall grumpiness from the absence of a steaming hot cup of coffee in the morning combined with potentially having to buy the boxes at full price right after a promotion has ended... not fun at all.
All this to say: don't let your coffee or tea supply run dry as mine currently is. You definitely don't want to land yourself in a grumpy scenario!
Here are just some of the teas you can get for free but there are plenty more:
Plus, you don't even have to get boxes of coffee to get a free box of tea. It can be any kind of beverage, just as long as you have 4 boxes of 24 k-cups each in your cart. You're also guaranteed to qualify for free shipping since it's automatically applied to orders over $45.
(Expiry: 13th March 2014)