Dominos Pizza Canada: 50% Off Any Pizza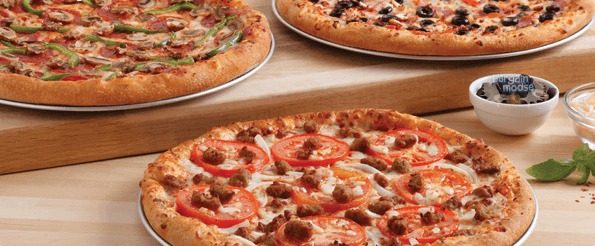 Dominos Pizza Canada has a great deal that you'll want to take advantage of this weekend. Get 50% off any regular-priced pizza!
Dominos Pizza has over 360 Canadian locations so I'm sure there is one near you. They've been delivering pizzas forever, well, since 1960, so they know exactly what they are doing. I do love me some Dominos Pizza! Ordering is really easy and you can do it right online and you don't even need a credit card. I love online ordering because there is no one to mess up the order except me. I love that you can choose everything about your pizza, from the crust to the sauce to the toppings to the cheese. Remember the old days when pizza was one crust, one sauce, one cheese and your choice of toppings were pepperoni, mushrooms and tomatoes? You can even get a gluten-free crust so all those gluten-intolerant people can still enjoy delivery pizza!
Dominos even has real time animation of your pizza as you customize it online.
You can get this deal with a pick-up order or delivery. I placed an order for a large four-topping pizza and it was only $7.50! The delivery charge from my local Dominos was only $3, which means I get a whole pizza delivered to me for less than $12 including tax. If that doesn't make not making dinner worth it, I don't know what does.
(Expiry: 24th March 2013)