Costco Canada: Introduce a Friend & Get a Free Gift Pack For You and Them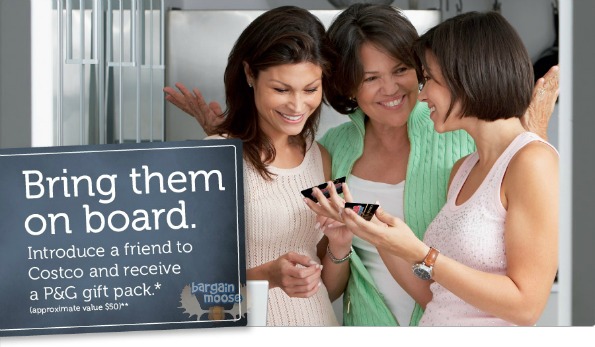 Costco wants you tell your friends how great shopping there is, so they are offering a free P&G gift pack for you and for them when you bring them into the store to become a member.
I have to admit, I do love Costco. I find the prices are quite a bit cheaper than elsewhere for almost everything I shop for. I love how cheap the photo processing is too, especially when they have their sales on, which are quite frequent. You can shop at their warehouse, which I always find an experience, or online and the price of the item includes shipping. Their return policy is also phenomenal, and I've even discussed with friends the items that Costco has allowed for return even after a long period of time.
There are different options for becoming a member, including getting cash back for all of your purchases, which if you shop enough, will pay for the membership and get you money back as well. Your spouse is free when you become a member.
The P&G gift pack that you and your friend will get when the non-member becomes a member is worth $50 and includes:
Swiffer Duster 1ct,
Tide Pods 5ct,
Venus Embrace Razor and Handle,
Mr. Clean Eraser 1ct,
Crest Whitestrips 2 Hour Express 1 pack
Check the Bargainmoose forum for more Costco Canada coupons and deals.
(Expiry: 31st May 2013)