Costco Canada: $45 Off Bissell Symphony All-In-One Vacuum & Steam Mop - Now $175 (Was $220)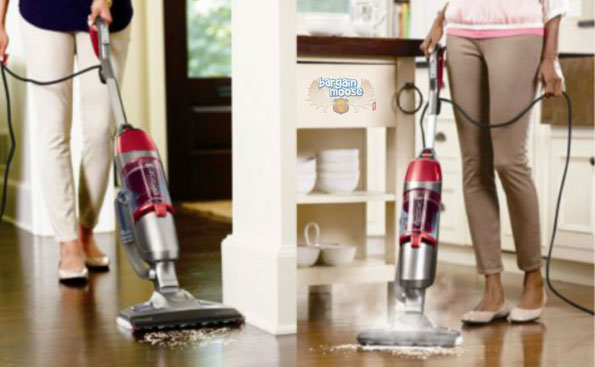 Ever wish you could clean your floors in one go? With the Bissell Symphony All in One Vacuum and Steam Mop you can! Even better is that it's currently on sale for just , instead of its usual price of $219.99.$174.99
Don't you just hate stepping on dirt when walking barefoot around the house? I typically wear socks but even walking from the bathroom to the bedroom after a shower can be a major drag as it has happened more times than not that my feet would be all dirty just from a couple of steps. Having two cats definitely doesn't help in that department but the fact that I now have a baby makes it even harder to fit in time to clean the floors. More than anything, I find it annoying to have to go around vacuuming, then fill up water for the mop and go around the house yet another time mopping. I have come to the realization, however, that I need an even more efficient method of cleaning my place, even more efficient than using a Vileda mop and I'm certainly considering trying out the Bissell Symphony as it can either vacuum, steam or do both at the same time!
Safe to use on practically any kind of floor, the vacuum part has an easy to empty dust pan and the mop's cloths are machine washable. Plus, it also has a 25' cord length and an adjustable handle, which is definitely a feature that my hubby is sure to love as he is tall.
Although Costco's site didn't have any reviews, I did find close to 40 reviews on Amazon with a general consensus of 4.5 stars out of 5. In fact, here's what one reviewer had to say about it:
I now have mostly hard floors (wood/tile) and needed a better way to keep them clean. I like to walk around bare foot, and can not stand the feeling of a dirty floor under my feet. The Bissell Symphony works great. It is easy to use, plus the time savings of being able to mop and vacuum at the same time. It heats up quickly and adding water is easy.
As for a price comparison, the Bissell Symphony is $219.99 at Amazon and London Drugs only has it in-stores for $199.99.
As always, Costco also offers free shipping, so you won't have to worry about any added fees.
(Expiry: 14th September 2014)