Costco.ca: Wentworth Entryway Bench (Now $239.99 Was $289.99)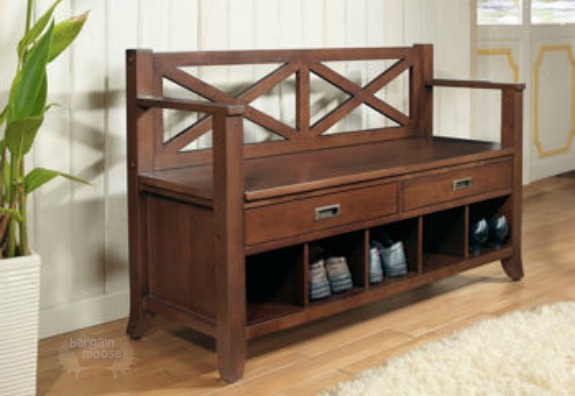 Costco is offering a $50 instant rebate on the Wentworth Entryway Bench, now $239.99 (regularly $289.99).
With small children and three adults in our home, our front hall needs lots and lots of storage. We fortunately have a little alcove inside our front door which is perfect for a bench, so when I saw this piece I immediately went and measured to see if it would fit. We have a bench there now but it doesn't provide storage, so having a piece that would do double duty is amazing.
Here's what I love about the Wentworth Entryway Bench:
It's wood, which allows for easy clean up (our current bench has a microfibre on the seat, looked nice when we first bought it but stains easily).
It offers five small cubbies underneath the seat which I will buy baskets for to keep the storage looking clean. We could store our shoes here but our entry way is small and I already installed a shoe organizer in our closet, so instead we will use these cubbys for sunscreen, head phones, car chargers, sunglasses, GPS, or pretty much anything that we may need to grab as we run out the door. And knowing me and my obsession with organization, I will assign a cubby to each member of our family (it works out nicely that there is one for each of us).
It has bonus storage with the drawers that pull out. To be honest, I don't have a plan yet for these two gems but I know I will put them to good use.
Here is a review that may give you some more insight into the quality and storage capabilities:
This bench is made of solid wood, nicely finished with high quality hardware that pulls all the pieces together tightly.
Assembly took me just under 3 hours and I found it required concentration but was not difficult. The instructions are clear, it just takes some time to tighten all the bolts and screws.
I was disappointed that the cubicles on the bottom were not large enough for my size 9 men's shoes to sit comfortably together in one cubby. I have squished them in by putting one shoe sideways, but I would have rather had 4 larger cubbies that fit shoes comfortably than the 5 that make them too tight. For smaller shoes, kids shoes especially, I'm sure this would not be a problem.
Also the wood is a little darker than it shows up on my computer monitor, but the overall finish is rich and smooth.
The delivery time was blazingly fast.
As always, Shipping is free from Costco.
(Expiry: 29th June 2014)