Checkout51 & Snapsaves Deals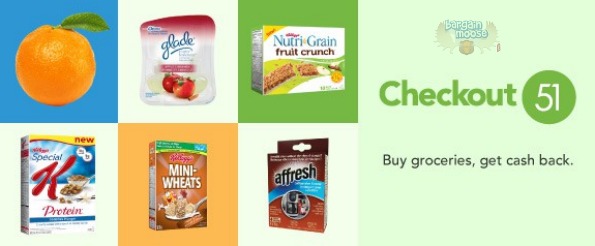 Every Thursday marks a new week for both Checkout 51 and Snapsaves deals.  If you are unfamiliar with these companies, they provide apps to help you save money on your weekly grocery bills. They are free to download and you will accumulate cash back with offers every single week at no cost to you.
All of these offers will be available until April 30th , 2014 or until they run out.
All-Bran cereal bars - $1 cash back
AXE deodorant, anti-perspirant or body spray- $1 cash back
DOVE body wash- $1.50 cash back
Kashi Nutty Chia Flax Multigrain cereal- $1.50 cash back
MELT Organic spreads- $1 cash back
Hydro Silk razors + Skintimate shave gel - $3 cash back

These are just a few of the offers they are offering this week.  This week it does seem to be more packaged food like cereal and bars as well as beauty products versus last weeks huge variety.  To be honest though, if you can save even a couple of dollars on your groceries, you are already doing great!
You will notice when you look down the list this time that a lot of the offers for items such as cheese and meat are already sold out.  These items tend to go the fastest because pretty much every single household needs to buy items like this.  They will only allow so many cash back offers to people and even though that amount is actually a lot, the popular ones sell out quick!
Here are some of the offers you will find this week:
Thursday April 24th
Fresh Mussels
Mazetti Veggie Dip
Friday April 25th
Tomatoes
Duncan Hines Frosting
Saturday April 26th
Black Mission Figs
Zucchini
Sunday April 27th
Monday April 28th
Cherries
Sun-Maid Yogurt Raisions
Tuesday April 29th
All of the offers will last for just one week only and they are all for $1 cash back each. This will be the same for all Snapsaves offers unless otherwise stated.
Happy shopping and happy savings Bargainmoosers!