Burger King Canada: $1 Frozen Lemonade Or Soft Serve Ice Cream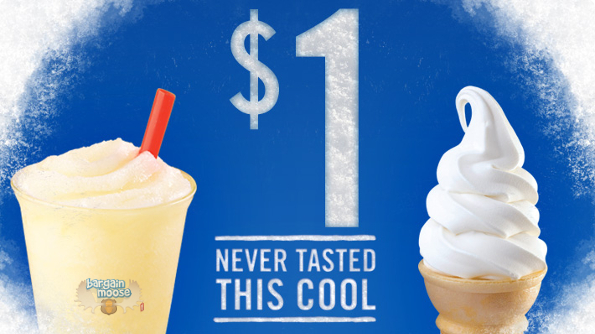 For a limited time, stop by a Burger King restaurant near you to get either a snack size frozen lemonade or a soft serve ice cream cone for just $1 each!
Burger King isn't one of the take-out restaurants that I ever frequent but I'll definitely be stopping by to take advantage of one of these dollar deals. McDonald's has a similar deal where you can get either a McCafe Iced Coffee, a fountain drink or a Dasani bottle of water for $1 each but Burger King's two deals are definitely even more enticing, especially since they're both absolutely summer-appropriate.
The dollar deal on the frozen lemonade is only available in a snack size 1oz size but that's actually the size I would prefer having after a calorie-filled combo meal.
I have to say that I have been particularly addicted to Dairy Queen's Blizzards lately but at about $5 a pop with the taxes, my addiction is starting to take a toll on my budget, so the dollar deal on the ice cream cone is the one that I'll be ordering. It's the kind of promotion that is great for a hot summer day, especially if you're out and about with kids. You could even make it an excursion to visit a Burger King in order to have your kids play at the jungle gym and to follow up with an ice cream or frozen lemonade.
Since there is no word on this deal's exact expiry date, I suggest you take advantage of it as soon as possible. Be sure to let us know in the comments section which deal you choose and when you had it! :D
Until July 4th 2014, you can also take advantage of these Burger King printable coupons to save on a variety of burgers and combo deals.
(Expiry: Unknown)