Bulk Barn: Save $3 on Purchases $10 or more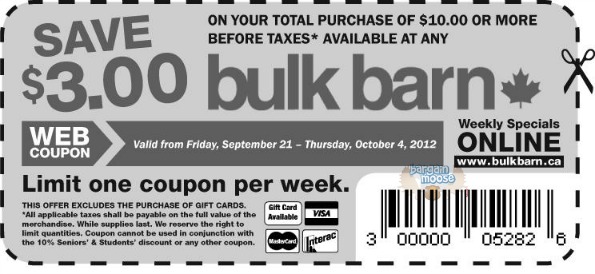 My favorite coupon for Bulk Barn is back.  Save $3 on purchase of $10 or more.  This is a printable coupon and will be valid until October 4th.
There is a limit of 1 coupon per week. With Halloween and Thanksgiving just around the corner, it is a great time to grab a few of those party items you might be needing.  They have a ton of candies and munchies that make great party treats.  They also usually get a lot of holiday themed candy and food around this time of year.  I love making "worms in dirt" or as us adults call it chocolate pudding with gummie worms.  It is always a hit with the kids!
Since you can use this coupon over the course of a couple of weeks, I would suggest heading in for a couple of small purchases adding up to just over $10 each time if you need to buy a lot of things.  That way, you will save the $3 more than once!
This is an awesome Bulk Barn coupon to take advantage of.
(Expiry: 4th October 2012)