WagJag Canada: $40 Worth Of NHL Gift Baskets for Only $18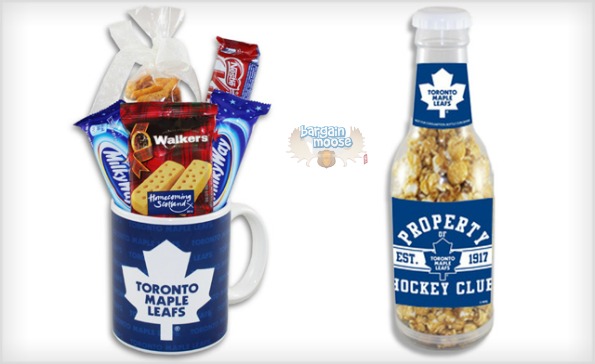 Purchase WagJag's $20 What A Bloom NHL Gift Baskets deal today and you'll receive a $40 credit towards any NHL Gift Basket. Better yet, use our exclusive coupon code to get this deal for only $18! I like deals that don't lock me in. I can pick from a couple different basket choices instead off being stuck to only one choice.
I don't know anyone who would love a hockey themed gift basket… said no Canadian ever. If you head over to WagJag today, you can grab a $40 credit for only $18 at What A Bloom. I've never purchased from What A Bloom before, but I do like receiving yummy food and gift baskets at my door.  Taking a look at their website they give you a nice selection of NHL teams to choose from.
Toronto Maple Leafs
Edmonton Oilers
Winnipeg Jets
Vancouver Canucks
Montreal Canadians
Calgary Flames
Ottawa Senators
The gifts and baskets range in price from $25-$70. I really dislike when a deal site sells you a $40 gift certificate and everything starts at $50. It's good to see you can purchase this deal and deliver the gift without spending extra cash if you choose. I also like that the bigger gift baskets aren't super expensive either. They're not trying to convince me to buy a $200 basket with my $40 voucher.
While overall there are a lot of teams to choose from, there aren't a ton of different styles of tins.
Popcorn Bank
Popcorn Tin
Mug with Snacks
Baby Item Themed Larger Tin
Snack Themed Larger Tin
These are a great gift to send to family or friends who are farther away to tell them you are thinking of them. Maybe you need a quick gift for your dad's birthday and forgot? (Sorry Dad!) Or maybe you truly don't know much about the person except they like hockey such as a gift for an employee. This kind of gift is a safe bet that the person on the other end will appreciate.
To truly see if this is a deal; let's compare the Toronto Maple Leafs Hockey Night Tin at What A Bloom with a few other retailers. It's a licensed NHL product so several places have them. If you were to buy the tin with the WagJag deal you'll spend $20 on the Wag Jag deal plus $10 on the tin. That puts you at $30 total for the tin. Here's what you'd spend without the deal.
$50 @ What A Bloom without the WagJag Deal
$50 @ Flowers Canada
$60 @ Staples
It's quick to see that on this bigger tin you'll save 40-50% by grabbing this deal now. On a smaller gift you'll save a little less, but won't shell out any extra cash out of pocket. Either way you'll have a great gift to send at a fraction of the cost. You won't be able to include shipping in your voucher, but you are saving enough that the shipping won't matter.
(Expiry: 28th December 2014)