The Shopping Channel Summer Shop & Earn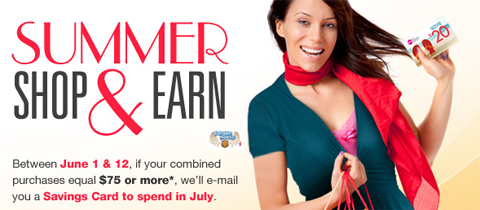 Over at The Shopping Channel Canada, there's a promotion happening right now which offers you free gift vouchers for spending a certain amount. You can see the full details at this link:
Here's a quick breakdown:
Spend $75 to $150: Free $10 gift card
Spend $150 to $250: Free $20 gift card
Spend: $250 or more: Free $40 gift card
To get the offer, you need to sign up at the above link, then wait for a good deal to come along!
So while $75 is a little high to be a minimum spend for this promotion, I've found that there are sometimes really good offers available which would make this promo even better. We've seen great deals in the past on electronics, kitchenaid appliances, cosmetics, etc. So if a great deal comes up in the next week or so, then you might as well get your free gift cards too.
(Ends 12th June 2011)
P.S. For those concerned about the Canada Post strike, The Shopping Channel is currently giving free upgrades to courier shipping. Nice!