The Rodgers & Hammerstein Collection Box Set (Blu Ray) Was $200 Now $42 @ Amazon.ca (EXPIRED)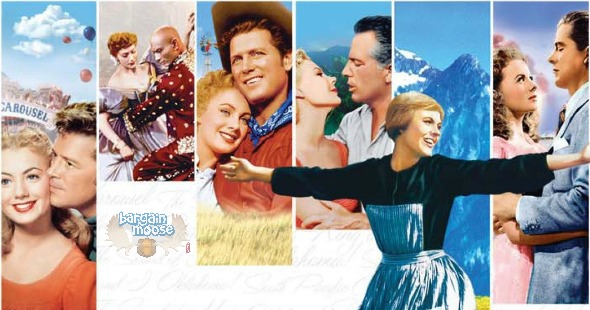 Today at Amazon.ca, you can save 79% off The Rodgers & Hammerstein Collection Box Set on Blu Ray. This box set is an Amazon exclusive and will only cost you $41.99. This is the lowest price so far for this Rodgers & Hammerstein Collection. The previous lowest price was $55.99. You will get free shipping too.
This is an excellent purchase if you are a fan of the good ol' classics. The Rodgers & Hammerstein Collection Box Set has great films with Julie Andrews, Christopher Plummer, Walter Lang and more. This Amazon Exclusive version of The Rodgers & Hammerstein Collection Box Set includes the musicals:
State Fair (1945) - This Rodgers & Hammerstein's musical highlights an Iowa family's adventures at the fair. The Frakes are the family this film revolves around. They have brought their father's prize hog to the Iowa State Fair. On the first day, both the daughter and son find themselves in a romance.
Oklahoma! (1955) - This film is set in the 1900's. This film is about romance and passion between a ranch hand and a farmer's daughter.
The King and I (1956) -This musical is set around a mother and her son when they are in Bangkok. Upon arrival, she is contracted to teach the English language to children of a royal household.
Carousel (1956) - In this Rodgers & Hammerstein Musical, follow a smooth talking carny who ends up falling in love with a millworker. This film takes place in Maine. Before the birth of their daughter, the ranch hand is killed in a robbery. He comes back to earth from heaven to attend his daughter's high school graduation and to teach her a very special lesson of his own.
South Pacific (1958) - This particular musical masterpiece follows the love story of a young Navy nurse and a French plantation owner. During this film you will experience some of the most romantic songs ever written.
The Sound of Music (1965) - This Rodgers & Hammerstein musical has truly become a cinematic treasure. It has won five Academy Awards including Best Picture.
This Amazon.ca exclusive Box Set from Rodgers & Hammerstein seems to hold strong reviews as well. Some reviews state that they would not have gotten their money's worth if they paid the original price, but were happy to have paid $80. That is great to hear - considering this box set is on sale for half of that low price. Here is one of the Amazon.ca reviews:
If you love the Musicals of Rodgers and Hammerstein then you should know that the six films represented in this set look and sound better than I have ever seen them on home video. So why should you consider holding off on buying the set? Frankly, it's the price. I was lucky enough to get my order in when it was being sold for under $80. For that price, I feel as if I've gotten my money's worth. Had I paid $179 I would have been sorely disappointed.
While the original price of The Rodgers & Hammerstein Amazon Exclusive Blu Ray Box Set was quite steep at $199.99, paying $41.99 is not bad at all. It has never been lower, and the price of the State Fair musical movie alone is $38. Shipping will be included as well.
(Expiry: 27th December 2014)