The Elf on the Shelf only $18.37 @ Amazon.ca – QUICK!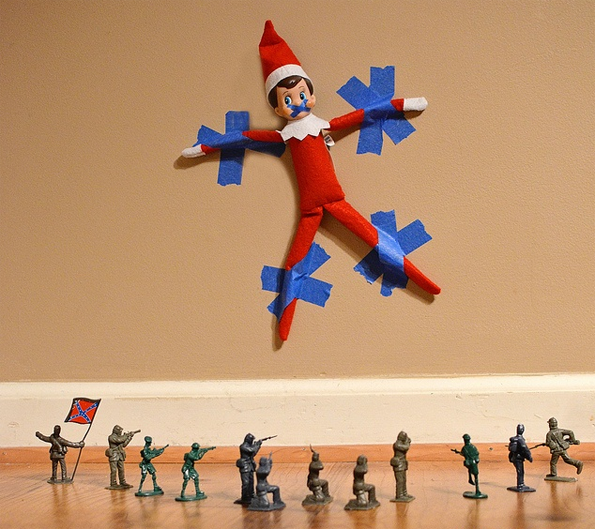 *** UPDATE - when I first wrote this, the Elf was only $10.92 but it has since risen in price to $18.37. This is still a FAB price though not quite as good as this morning! ***
*** Second update - now $22.11 which is still good!! ***
OMG I think I've found something which is either a SUPER-HOT deal or a price glitch on Amazon! The Elf on the Shelf is usually around $40 to buy but sometimes there are deals you can get such as the $34 price yesterday from Chapters which I wrote about here. I was checking Elf prices on Amazon today and I noticed something very odd – and Elf and hardcover book set for only $10.92 $18.37!! This is a massive saving and I have never before seen such a price on the Elf on the Shelf!!!
Now – here's the thing – the book is in French. This is the French edition. But if any of you are like me, you had looked at the book once and then all the fun was had in actually setting the Elf up throughout the house over the course of December. But the listing on Amazon clearly states:
This gift set includes a North Pole girl elf with light skin and blue eyes, hardbound children's French edition book and keepsake box.
If all you really want is the Elf, then this is the ideal time to snap it up. I don't know how long this deal will last and I wanted to get it out asap – hence the reason I am publishing this early in the morning!!! Here's a screenshot to show you the deal: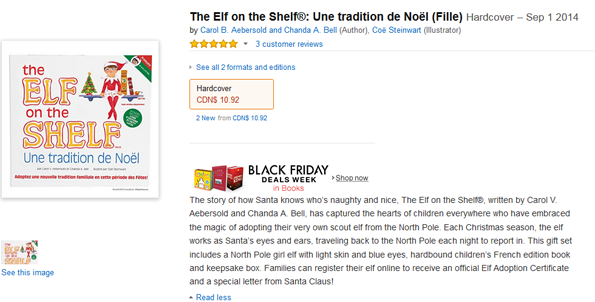 As for shipping, I am sure all of you are well-versed in the shopping policies on Amazon.ca. Amazon Prime members can get this shipped to their home for free, right now. For the rest of the Moosers, you'd have to top your order up to $25 or more for free shipping to your home.
(Expires: unknown)