The Brick: Free TV With Sofa Purchase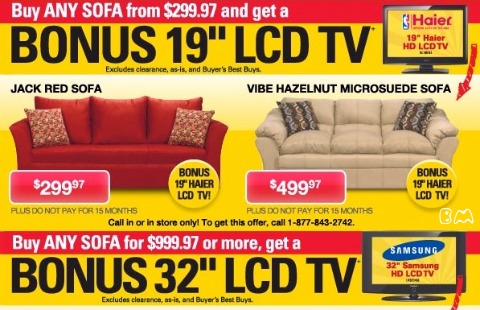 The Brick is offering a bunch of free TVs when you buy a sofa for $299.97 or more. When you buy a couch for $299.97 or more you will receive a free 19" Haier HD LCD TV. With a couch purchase of $999.97 or more you will receive a 32" Samsung HD LCD TV. Also, on some select couches you will receive a 42" Samsung HD Plasma TV for free.
This is a 'Call In' or in - store promotion only. It is pretty simple to call in, I bought my hubby's Boxing Day HDTV that way. They just take your info over the phone and them put the items on reserve for you to pick up. Alternatively you can have them delivered.