Team Buy Canada: 59% Off Stylish Seed Wood Watches for Men & Women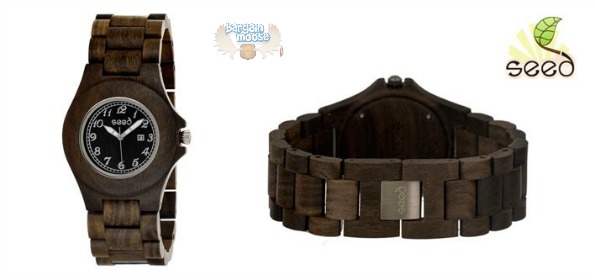 Team Buy Canada has Seed Wood Watches for men and women on sale with tax and shipping included. Just purchase the TeamBuy and enter your shipping information. The product is mailed to you once the offer closes on September 12th 2012.
I was actually looking for something like this as I have a family member that cannot wear watches due to a metal allergy. I am really hoping that this will allow them the opportunity of wearing a watch. These watches are all 100% eco-friendly and made from organic wood.
I settled for this watch from the Phloem collection which looks to be a very rich shade of brown. The only material listed is wood and they come with a 1 year limited warranty. All watches are $160 value, on sale now for $65.
I also quite like this watch from the Cork collection that is a khaki/tan colour. This states that it is for men or women, but really looks more like a watch for a woman to me. It has a rather sleek look to it and seems to be more square than the others.
If you want to learn more about Seed Wood watches, you can visit their website at www.seedwatches.com. There you can find information on all their watches, the company and find out about the warranty on the watch you purchased.
Shipping: Included in price
(Expiry: 12th September 2012)