Hand Crafted Gift Pendants For Teachers From $20, + Free Shipping @ Foxy Originals Canada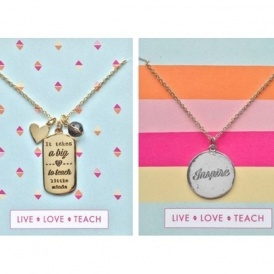 School's Out!! Maybe not right now - but by month's end, it will be time for your kids to say goodbye to their teachers, and along with that usually comes a parting gift. Here is such an original teacher's gift idea that when your child presents it to their teacher, it will easily become their most cherished gift. Foxy Originals is a Canadian Company who is able to operate their hand crafted jewellery business in Toronto, Ontario, from right out of their home!
I was interested to read this statement by Foxy Originals, about their hand crafted designs, and I know our Bargainmoose readers will appreciate this:
"We are committed to responsible and ethical production. Foxy Originals are made from the highest quality metal, with strict adherence to the best practices in health and safety for those who make the product, as well as for those who will wear it." The one thing I especially liked was this: "Foxy's Teacher's Charm Necklace is handmade from fine pewter and is plated in Gold. All Foxy jewelry is lead free."
Do you believe it takes a big heart to teach little minds? Foxy Originals does, they've created a pendant on a chain that relays that message. On the reverse side are the words, "live, love, laugh", throughout. I also believe it takes a big heart to fulfill the role of teacher and nurture young minds; there are some teachers out there who are so remarkable they are deserving of a unique and meaningful gift such as this.

This one is my favourite piece for a teacher's gift: A fine pewter, silver plated necklace with the sentiment, "Inspire" on one side, and "Live, Love, Teach" on the other! It's selling for $20, and right now, shipping is FREE, when you purchase anything from the teachers gift selection using the fitting code, liveloveteach. You may also purchase this item in fine pewter, but plated with gold, if you prefer. It is also selling for $20. I noted when I had the teacher's gift in my cart, as well as the Alberta Strong necklace mentioned below, shipping was still free! There is also a place during checkout to enter in a personalized message (if you would like to give this as a gift to someone and mail it directly to them.)

Besides having teacher's jewellery on their website they also have an 'Alberta Strong' selection. All proceeds from the sale of the Alberta Strong collection will be donated to the Canadian Red Cross Society to help provide emergency food, clothing, and shelter. These heart necklaces will be incredibly sentimental to anyone who holds Alberta near and dear even more so after The Fort McMurray, AB wildfires. (Shipping is not free on these unless you are already ordering a teacher's gift, but would only be $8 if not.)

Wow! I just watched the video as to how Foxy Originals designs and creates their products and is it ever interesting! Here it is, if you'd like to view it to see where your Foxy Originals jewellery is created.
All pieces can be recycled through Foxy's recycling program.

Shipping is free if ordering any teacher gift and using the code livelovelaugh but ordinarily shipping is free on orders over $75 and if the threshold is not reached, there is a very reasonable $8 flat-rate shipping fee.