Take 66% Off Lalaloopsy Bubbly Mermaid Doll Pearly Seafoam for Just $18 @ Amazon.ca (EXPIRED)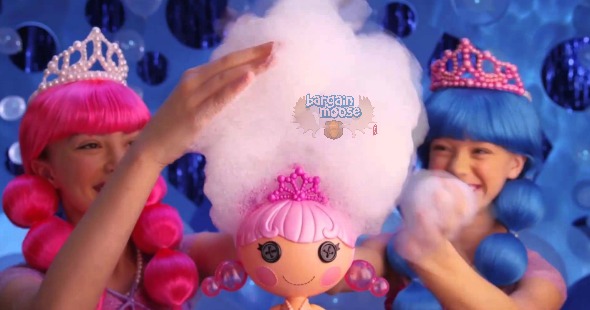 What little girl doesn't love the Lalaloopsy dolls? Amazon Canada has a great deal right now on the Lalaloopsy Bubbly Mermaid Doll named Pearly Seafoam. This doll would have normally cost you $40, but right now you can pay just $17.78 while quantities last. If you spend $25, you can get free shipping too.
While I had originally thought that the price of $40 was inflated, that is not the case. This Lalaloopsy Bubbly Mermaid Doll does retail for around $40 at other Canadian retailers. I took a look at Walmart, Toys R Us and some other stores to make sure that this is the best deal around on this Lalaloopsy doll. This doll sells for $35 @ Walmart.ca (but is sold out). Toys R Us also has this Lalaloopsy doll for $38.
After reading some reviews on the Lalaloopsy Pearly Seafoam Bubbly Mermaid Doll, I think you will find that this is a great bath toy for younger girls. Here is one of the Amazon.ca customer reviews on this product:
My daughters (4 and 7) received this Lalaloopsy Pearly Seafoam Bubbly Mermaid Doll as a gift, and they adore it! They love the crazy idea of bubbles coming out of her head, and it produces them very quickly, with just a few squeezes of the tail. I like that it has been very easy to clean up - with water squirt toys I always worry about it getting yucky, but that has not been a problem with this one. It' is much cooler than the colour-changing Ariel or Barbie mermaid, which don't really change that much anyway.
One of the common complaints I found for this toy, is that the dress is fabric and takes a long time to dry after bath time. Otherwise this seems to be a great toy. The doll comes with an adorable pet blowfish that squirts water. The bubble solution is included. Just fill her tail with the bubbles and then squeeze her tail to make lots of fun bubbles. I am sure once the bubble solution runs out, you can just grab ordinary bubbles from Walmart or the Dollar Store. At least that is what I have done with bubble toys in the past.
If you have two little girls in your family, you may want to purchase two of these Pearly Seafoam Lalaloopsy Bubbly Mermaid Dolls. That way, you also receive free shipping, since Amazon.ca does not include shipping costs unless you spend over $25.
(Expiry: Unknown)