Swarovski Canada: Free Mirror Compact With $150 Purchase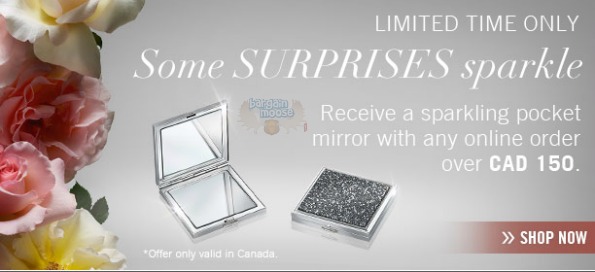 Swarovski Canada is offering a free sparkling pocket mirror studded with Swarovski crystals for free when you spend $150 or more.
This is Swarovski's Mother's Day promotion so that you can spoil your mother on her special day.
There are some very reasonably priced gifts at Swarovski that you can buy for Mom. This Slake Light Blue Bracelet is priced at only $80. It is wrap style and studded with Crystal Aurore Boreale crystals. If you also bought these Solitaire Pierced Earrings for $70 (which are just lovely and would sparkle like nothing else) then your order would qualify for the free mirror compact. You would also have two gifts so if you have two Mothers in your family (mother and mother-in-law, or your mother and then you are also a mother) then the two items can be given seperatly and the mirror compact can accompany one of them.
Why not pair this Astrid Pendant for $95 with its clear crystal petals and Aquamarine crystal center with this Crystalline Lady Ballpoint Pen (Love) for $55? Together they cost $150 which means you will also receive the compact. There are so many lovely items to choose from. The free gift will appear in your shopping bag.
Receive free shipping on orders of $120.
(Expiry: 11th May 2014)