Swarovski Canada: Free Crystal Pouch with Any Order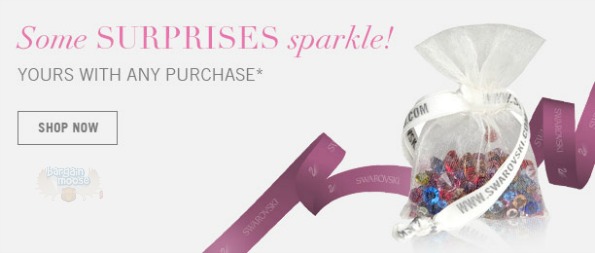 Swaorvski Canada has a little incentive for you to buy your lover something sparkly this Valentine's Day. With any order at Swarovski (no minimum), you will receive a free crystal pouch.
I am actually rather surprised at this offer. I do not recall Swarovski ever having a free gift promotion without a minimum purchase required. Usually that minimum is fairly high, around $150 to $200.
I tested the offer out on a Slake Deluxe Bracelet, they retail for $79 each. You can select the bracelet in your or your lover's favourite colour, as there are 13 different colours to choose from. I added the Slake Rock Purple bracelet to my cart and the free crystal pouch popped right in as well.

Even though you will receive the free bag of crystals with any purchase amount, Swarovski offers free shipping on orders of $120 or more. Under that minimum, shipping will cost you $10.95. My cart is $41 short of that threshold, so I went in search of something larger.
This Disney -Piglet figurine might not make you think of Valentine's Day right away., but Piglet is holding a heart shaped balloon while looking oh so sweet (and a little wind-blown). I think the figurine is absolutely adorable, and at $150 it makes a lovely gift and qualifies for free shipping. Swarovski also offers a free gift bag and greeting card. Thus, you have everything you need to present your gift without having to buy a card or wrapping paper.
For a more traditional Valentine's Day gift, gaze upon the Cupid Heart Pendant for $145. The pendant has two moveable heart pieces that can be worn four different ways. Have the hearts nestled, side by side, or wear each heart individually for a different look all from one necklace. This is a piece of jewellery that will last for ages because it forever changes.
The gift is a sweet little satchel of crystals, but I have no idea what one would do with them! They appear to be loose crystals inside a bag. I suppose you could use them for decorating - put them in a glass tube and watch the light catch them from the window. If you have any ideas of what to do with the free crystal pouch, leave your comments below!
Quantities are limited.
(Expiry: 14th February 2015)