Shopper's Drug Mart: Surprise Gift Card With $50 Purchase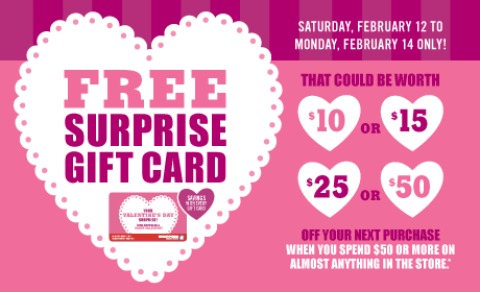 Everyone loves a surprise! From 12-14 February 2011, you'll get a surprise gift card from Shopper's Drug Mart when you spend $50 or more. Your gift card will have a value of $10, $15, $25 or $50! You'll have until 7 March 2011 to use your surprise gift card. Wouldn't it be great to get the $50 card?
I like to use any gift cards that I get from Shopper's Drug Mart Promotions on gifts. Whether you choose to give the gift card itself (good for ones with no expiry, like Tim Horton's gift cards) or use the gift card to purchase a gift, you can always find something great. I buy a lot of books as gifts, and I find that Shopper's always has a good selection of best sellers.
Click here for the fine print on this promotion.