Shop.ca: Save Up To $25 With Our Exclusive Coupon Codes!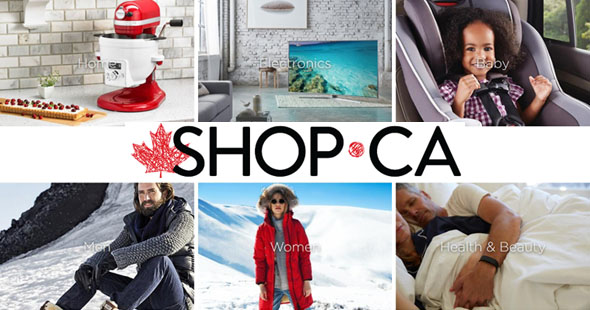 Shop.ca is a wonderful, Canadian-owned site where you can find high-quality niche products as well as big brand names. I've come across some great deals at Shop.ca and everything ships for free! On top of that, they've given us some exclusive coupon codes just for you, dear Bargainmoose reader!
Coupon code: BARGAIN10
Discount: Save $10 off $125
Coupon code: BARGAIN25
Discount: Save $25 off $250
Now, these aren't the highest-value promo codes that Shop.ca has ever offered but savings are savings, right?!
And on that note, when it comes to the necessities for baby, every little bit helps. These were some of the sales that jumped out at me immediately; I guess because it wasn't all that long ago that I was in the market for all of these things and looking for any way to save even a few dollars because, holy crap, babies are expensive!
A premium quality stroller that will last from infancy to 50 lbs., Shop.ca has the Snugli Stroller on sale for just $199.99 -- a 60% discount. Babies R Us has the same stroller for $589.99! The stroller frame will accommodate an infant car seat (with the appropriate adapter, which is included with Snugli car seats) but is reversible so older children can explore the world. It also has a fully adjustable seat and, if you've shopped for strollers before, you know similar models can be $1000+. If you add the coupon code BARGAIN10 at checkout, you'll save an additional $10 making the total discount 62%.
Switching gears a little bit, another sale caught my eye because it's something I consume every.single.day. and I love it. Shop.ca has two large tubs of Vega One All-in-One Nutritional Shake for $109.97 and, of course, they will ship for free. One large tub generally runs close to $70 at most retailers though you can occasionally find it on sale for as low as $55, so this is definitely a decent price for two. I have a smoothie for lunch every day with a scoop of Vega One All-in-One, a bunch of baby spinach and some frozen berries. It's often all I have time for but I feel so much better knowing all of the goodness Vega (a Canadian company) has packed into that one scoop. One serving contains 20g of complete protein from plant sources, 6 servings of greens, a ton of vitamins and minerals as well as extra fibre, Omega-3s, probiotics and antioxidants. Whew! The taste of protein/meal supplement powders is so subjective but I find most of Vega's flavours range from palatable to actually really good -- Mixed Berry is my favourite!
Given my resolve for a healthy(-ish) 2016, I noticed Shop.ca also carries the FitBit line and has one of their fitness trackers on sale. The popular FitBit Charge has been marked down from $149.99 to $119.99. They also sell FitBit's companion scale, the Aria, for $169.99. If you purchased both and used our exclusive promo code (BARGAIN25) you'd save another $25 and pay only $264.98 for the pair.
Every order ships for free from Shop.ca (with a few oversize/overweight exceptions). I hope you'll find something perfect and put these codes to good use! Don't forget to keep an eye on our Coupon Section for even more savings, as we find them, just for you!
(Expires: Unknown)