Shop.ca: Hockey Memorabilia - Autographed By Hockey Legends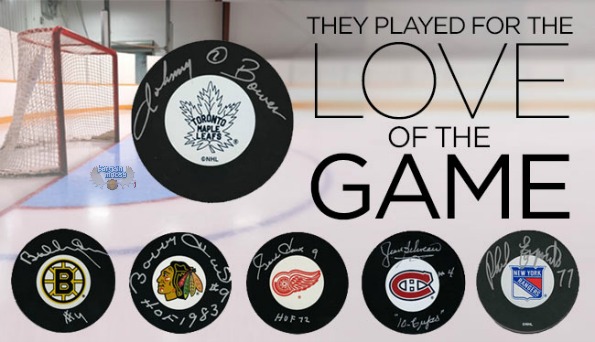 Shop.ca has many different memorabilia items autographed by hockey legends available with free shipping.  This offer is available for a limited time while quantities last.
The first thing I was truly interested in was this Johnny Bower 16X20 photo with him holding the Stanley Cup.  I believe this is a Hall of Fame photo taken in 1976.  I have mentioned before that I am truly a Toronto Maple Leafs fan and looking forward to have some sort of hockey season this year.  I am certainly not an expert of the facts of hockey, but I do enjoy it and I know that my sons would love to receive something like this as a gift.
I did some searching on different websites and found that some of the prices in this sale were not so great and some of them were, so you have to decide for yourself.  This kind of thing is usually something we would just like to have rather than do a lot of comparison shopping for.
I did compare a couple like this 8 X 10 autographed photo of Martin Brodeur that is $119.  I found some similar photos on Sportsmemorabilia.com that started at $140, so I'm liking this deal.
There are so many things available from signed hockey pucks to jerseys and photos and of almost every legendary player you can think of, so have fun looking.
Don't forget to visit our Shop.ca coupon page for the latest coupon codes and discounts available. New members get a coupon code for $25 off $100!
Shipping: Free
(Expiry: Limited time only)