(Save 60%) Schleich Big Knight's Castle Was $168 now $67 @ Amazon.ca!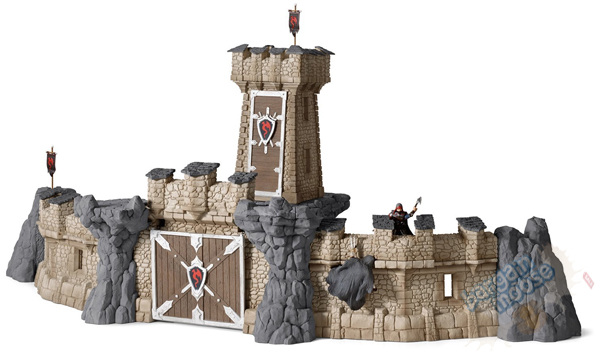 It is time to pillage and raid! Schleich Big Knight's Castle is on sale @ Amazon.ca - it was $167.99 and is now only $67.20. You will save 60% after you grab this castle from Amazon. This item also qualifies for free shipping.
There are rumors brewing of an enemy attack. I have heard there are knights, ninjas and pirates lined up outside the city gates, and they look like they are ready to fight. The king has taken his council in to his chambers and soon the battle will begin. This is an awesome deal if you have a kid who loves pretend play. Most little faces (and enthusiastic adults also!) would light up seeing an amazing castle of this size and detail.
This big model includes many details that many other play sets do not have.  Make sure you save floor space for this set. This set is humongous at 140 x 56.5 x 55 cm. Some of the great features include:
A trap door and secret passage to the dungeon
2 figures included- Dragon Knight and Griffin Knight with shields
Moving gate with realistic sound
Individual castle pieces are able to mix and match to create several different looking castles
Detailed rock work and building
On Amazon.ca this castle is rated as #8 in Toys & Games > Action & Toy Figures > Figures. This set has high reviews and users seem to love it. One user was skeptical of the age range for this set until the box came.
"My six-year-old daughter is going through a "fairy-tale castle" stage. I was initially taken aback that such an elaborate and expensive set would be recommended for ages thirty-six months to fifteen years. We were very impressed. This castle, though plastic, is exceptionally detailed with an amazing weathered look to the "stone". This is, without a doubt, the best quality playset I have ever seen." 
Buyers are reporting that the set is a little intimidating at first. The set has many pieces that are wrapped individually for shipping. Once the pieces are opened, the set assembles easily in 20 to 30 minutes. You may want to have a couple extra hands on deck to help you unwrap and put together this detailed monster if you want to have it ready to play quickly.
You will pay a lot more for this set elsewhere and all the price points seem to match. From around the web here are a few other places you could buy.
$150 @ LearningToys.ca
$160 @ Master Mind Toys
$160 @ Treasure Island Toys
$165 @ Toy Jungle
Most of the biggest retailers are not carrying this item, perhaps because of the size and detail. I would say this is a great buy. Schleich is known for detailed toys and there are many knights, dragons, horses and other pieces you can purchase to add on to this set. This set is a steal right now.
(Expiry: Unknown)