Sale4TheDay.com: 79% off Jazz HD Video Camera (Save $220)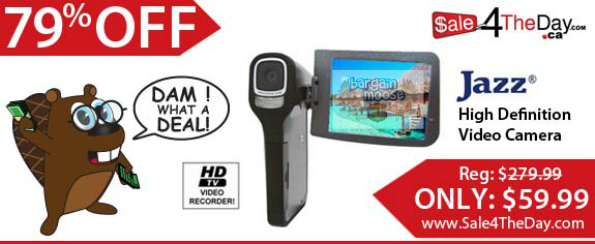 Thanksgiving and Christmas are coming up and Sale4TheDay wants you to record all your family events and wrapping paper filled living rooms in glorious HD, for cheap!
This camera is normally $279.99. The 79% discount saves you $220 which means you get this camera for only $59.99.
I had never heard of Jazz before, or at least they weren't forefront in my memory, and I couldn't even find a huge amount of stuff for them online other than reviews for products. That isn't necessarily a bad thing but it does lead me to believe that this is some off brand, low end manufacturer.
So imagine my surprise, then, when I found a bunch of really good reviews on this product. There are, of course, bad review but less bad than good and the arguments for the bad ones don't hold up that well. In any event, for $60, even if it isn't a top of the line product, it's still an amazing deal. Here are some features:
3" TFT LCD High Quality Display
8 Mega Pixel HD Digital Camera
1280 x 720 (720p) HD Video Resolution up to 30fps
3x Digital Auto Focus Zoom Lens
Flash
Macro/Normal mode
Date/time mode
Auto power off
SD Card Slot up to 32GB (SD card not included)
Digital Still Camera
HD Video Recording
Self Timer
Motion Detection/Night Mode
This is a 720p video camera and it does 8MP still shots. The internal storage is lacking so I highly suggest you get an SD card for this camera.
(Expires: 7th September 2012, 12:00AM)