Roots Canada: Spend $125, Receive 1yr Chatelaine Subscription ($20 value)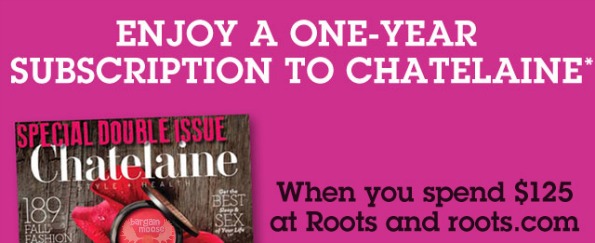 I rarely associate Roots Canada with a magazine, and if I did it would probably be Travel Alberta. However, Roots Canada has teamed up with Chatelaine. When you spend $125 or more @ Roots you will receive a free 1 year Chatelaine Subscription. In Canada the Chatelaine subscription usually costs around $19.95 a year.
You will receive a unique pin code with your order, and you will need to redeem the pin code for your free subscription!
I always head for the sale section when shopping at any store, and as the autumn sale is now on... it is a good time to shop.
The leather sale section is disappointingly sparse. However, both the men and women's sale areas have been reloaded. In the women's area I find these lovely Quincy Tank Dresses in two different colours. Originally $68 they are on sale for $39.98. But wait, there is more! You get an extra 20% off sale items in your cart, so one dress suddenly becomes $31.98! Hm, whether to get one, or one in each colour!
Free shipping on orders of $100 or more.
Expiry: 30th, September 2012