Roots Canada: PreSale For New Pocket Book-Tribe & Bonus Gift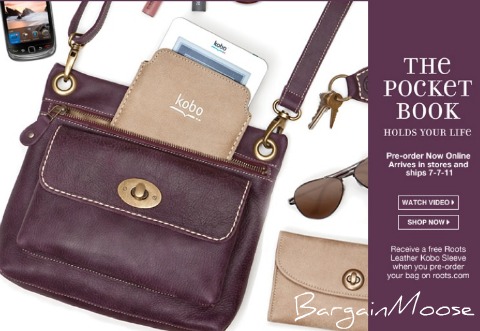 There is an online pre-sale happening for the new Roots Canada Pocket Book Bag. This new leather bag arrives in stores and ships out online on 7th July, 2011. When you pre-order online, you'll also get a bonus Roots Leather Kobo Sleeve and $10 off the new Kobo Touch eReader at Indigo and Chapters stores.
This Pocketbook - tribe is pre selling for $198. Made in Canada of 100% vintage tribe Italian leather, it has a handy technology pocket to hold an ereader or tablet on the front and a zippered pocket on the back that's perfect for a cell phone or iPod.
You can even watch a you tube video about how this pocket book holds your life. Click here to see the video.
This is a great looking bag! The leather Kobo sleeve sells for $32 at Chapters, so that is an awesome freebie! The extra $10 off the new Kobo Touch is pretty temping too, especially if you wait for a great sale from Chapters!
Shipping is free with orders over $100. They are shipping with alternate carriers until the Canada Post strike is over.