Rogers Magazine: Free $5 Shopping Channel GC With Each Subscription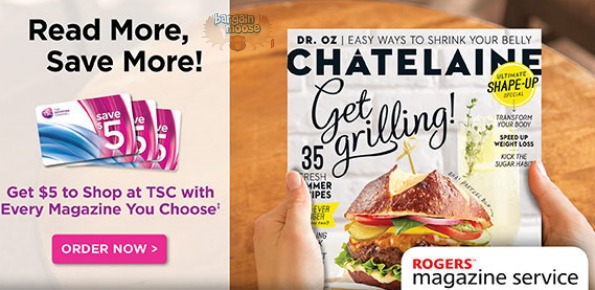 Rogers Magazine Service is offering a bonus $5 Shopping Channel Savings Card for every magazine you subscribe to with Rogers.
This very interesting promotion requires a little explaining to make sure you get the full benefit of this offer without any hiccups.
First, you may earn a maximum of a $50 savings card coupon per customer. That means you may order up to and including 10 magazines. You want to order all these magazines together at the same time because you can only redeem one savings card per order on The Shopping Channel. Thus, if you bought ten magazine subscriptions in ten separate orders you would have ten $5 savings cards floating around and would have to place ten orders to redeem them all. That would not even cover the shipping. You really want to figure out all the magazines you would like to subscribe to before placing your subscription order, and then place the entire order at once so that the $5 per subscriptions combines for a higher value savings card.
Subscriptions start within 4 to 8 weeks, though that can be delayed if you choose a US magazine or if the issues are less than one a month. Now, your savings card will be sent to you by email within two weeks of your Rogers subscription order. Your Shopping Channel savings card will be valid up until the end of the year: the 31st of December 2014. You must spend it by then or else the coupon will expire. Your Savings card coupon is for a one-time use only: so if you do end up with a $50 savings card, you will need to use that all at once. You cannot split it between different orders.
If you love buying magazines and have been eying up a few lately, or perhaps the few you read are up for subscription, then you might want to consider this promo. As offers go, I think this is one of the more useful incentives as it gives you credit on a very popular website with plenty of items to choose from. You most certainly can find something for most anyone on The Shopping Channel and you do have at least six months to use the savings card coupon.
This offer cannot be combined with other promotions or offers.
What magazines do you read on a regular basis? Do you have any recommendations?
(Expiry: 31st July 2014)